Pictures of The Tragic Event will be added later, once photobucket.com has finished its maintenance.

On to the tragedy.

I finished Hint #1 of Secret of the Stole quite happily (photos in Monday's entry). All was right with the world! I was catching up! But I had some trouble around row 111, so I decided to start using lifelines. I carefully pulled back to a row I knew I had right (for the third time), and threaded the lifeline in a bright yellow, contrasting (I thought) cotton thread. I then cut the lifeline from its spool... only to discover I had cut the silk yarn, instead.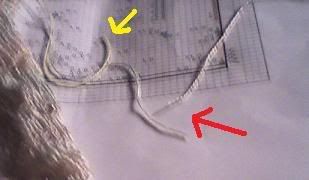 This was Not Happy. I was at the end of a row, of course, so I kept going. Everything was otherwise fine, right? And I'd be able to hide those ends in the edge of the stole somehow. So, I kept going, replacing the lifeline about every ten rows. All was happy - I was almost halfway through Hint #2! Yay! I spread out what I'd done thus far, and noticed something.

There was a HOLE in my lace. I tried to pick up the stitches (I wasn't quite sure how this would affect the pattern, but, darnit, it was a good fifty rows back!).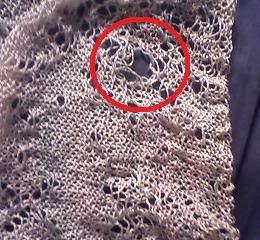 I tried and tried, but the danged hole just kept getting bigger, until I realized there was absolutely no way I was going to be able to fix it without ripping all the way back. Cue the frogging tears.

I got all the way back to the hole, and realized that I couldn't quite figure out what was going on with the pattern at that point - lace is very squiggly, and I couldn't separate "stiches" from "loops that are just hanging out having fun". I couldn't find a good place to pick up and start again...

...so I kept going.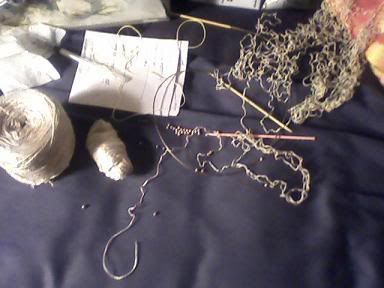 I haven't got the heart to restart today; I'll pull out another lace project for a while and practice some more, then come back to it. Because it *is* really lovely, and I really liked the way it was coming along.

I want to knit this stole.
Just not for a few days.