Okay, so this was going to be a photo-filled entry of all the new stash, things found on sale, and finished objects.

This madcap photo spree required just one thing: that I remember to bring the SD card with all the pictures on it with me today. As I did not, I'm just thankful I had *one* knitting photo on my cellphone, so I could e-mail it to myself!
To wit: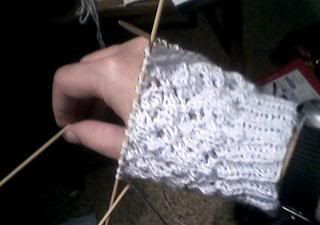 The Fingerless Snowflake Lace Office Glove from SqueakyWeasels gallops apace. I'm actually up to my Very First Thumb Gusset right now, and so far, so good. It'll be interesting to see if I ever get to the *second* thumb gussett...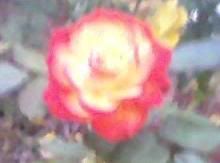 This is just a blurry picture of a rose that I spotted on the way home from work on Wednesday. I just *love* the colorway. It'd make a great hat....! And now, What I've been up to the past four days, more or less:

THURSDAY:
Lasagna at the in-laws', turkey at home. Watched CSI, and knitted on glove. Fairly typical day off, just more family and food.

FRIDAY:
Shopping at zero-TooEarly-hundred. Scored the Desired Electronic Item in the first ten minutes. Spent rest of day alternating between bringing small stuff home/to mom's and wandering around watching other people shop. Managed to *not* spend too much money. Did score Spice Girls CD. Came home; discovered local ruffians had spray-painted a tag on our garage door. Called police, fixed exterior lights.

SATURDAY:
Got up, cleaned off garage door. Talked to neighbors: we were the only house hit, but every white van or truck on the street had been tagged (plus some on side streets). Talked to more police. Napped most of the day; went out for Mexican ("not turkey!!"), shopped. Lots of cruisers through neighborhood.

SUNDAY:
Shopped. Can you tell I shop when I stress? More police sightings. Got buttons, pins to get buttons on Unnamed Sweater which is finished, but for the buttons. Knit more on glove.

MONDAY:
Got here WAAAAAY the heck too fast! Must buy caulk; stuff that removed spray paint from garage also eating through latex exterior paint. Do *not* want to buy new garage door.

And how was YOUR weekend?