First, a housekeeping note:
http://groups.yahoo.com/group/secretofthestole-ii/ is the new, updated link for the Secret of the Stole II knitalong starting in January. The "-ii" does make it easier to parse the name of the group! If you're already joined, no worries, but if you're trying to find the group, and can't, that may be why.

I got yarn. It's not a yarn accident this time, like yesterday... it's coming back on purpose to get seven more balls of the stuff so I can make my next shawl. Yes, I know, I've got two shawls on the needles as it is. And I figure it might as well be four, since we all know I'm starting the Pretty as a Peacock the second I get my paws on my box from Oregon.

Elsebeth Lavold Cotton Frappe
159yd/ball
Destined to be Fiddlesticks' "Peacock Feather Shawl"


It's Friday, usually a good thing. This Friday, however, the weather is cold, rainy, and blearch. Naturally, it's also given me a case of the sniffles, which sucks. Sniffles are bad for me being around people with lowered immune systems (my friend G has a birthday party Saturday, and his son has been home with respiratory difficulties for several months); and when I'm sniffly, I can't deal with allergy triggers myself (everywhere we're supposed to be on Saturday has cats). *Sigh.* I'm really hoping the sniffles abate, or Saturday will not be the fun-filled partyday I had envisioned for myself and my spouse. (And said spouse could *really* use the break; he's got final exams coming up in three weeks.)




At least I want to keep my spouse, unlike "Jennifer" here: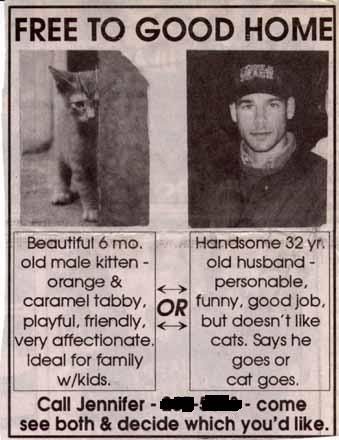 On the UFO count front: Screw it. I wasn't counting handbags (for some odd reason); I wasn't counting the dice bags I've already cut up to sew. The count is now sixty-three (63). I'll just have to work at keeping it under 70. *Sigh.* I therefore am completely free to find new, fun patterns, since "going over 60" isn't an issue, apparently. Here's a pic of one of the "offenders", Diane Zangl's "Britney Handbag" from Knit'n'Style: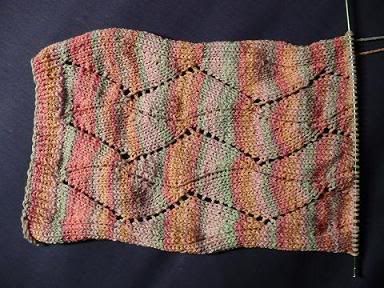 Mine's gonna be bigger... enough to hold some yarn and needles, at least!


Got the third piece of the Unnamed Sweater done, at least. I think, despite the fact that there are two sleeves after this next bit, I'm closest to finishing this, out of EVERYTHING. I'm really liking the diamond-zig-zag thing that's happening with the colorway here. I'm hoping I get the same effect on the second side of the back; it'll look COOL. It's Red Hearts TLC Essentials, colorway "Heather" - which has been out of production for a while (of course). I think I've got enough to finish the sweater, since I've already done the button band as I went!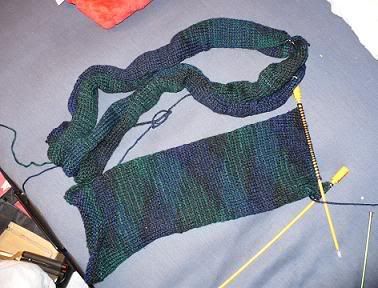 First up for Things-I-Found-on-Ravelry: Kathleen Taylor's cute Gramma K's Fair Isle Tam, knitted up over here by NerdyKnitter. So cute! Requires felting, which requires wool, so I'll be playing with it a bit due to Sheep-less requirements. I'm *certain* I've got stash I can use... I'm thinking that leftover black, with the leftover green, blue and purple... or something like that. I just love the pattern!

Next: Her Stranded Pumpkin Tam. And the Stranded Pumpkin Mitts that go with it. If you haven't guessed already, Kathleen Taylor just went on my favorite designers list. Yes, both patterns are "child sized" - but I wear child-sized glasses, because my head is freakishly small, and I can wear kids' mittens... so I'm really not too worried.

But wait, there's more great stuff out there: Interweave Knit's Summer 2007 had this scrummy Oriel Lace Blouse, where the fitting was done by changing needle size. I'm definitely doing it someday, but it's at the bottom of the queue because I need to resize myself before knitting this blouse.

More: If you're on Ravelry, check out Street Legal Designs. Arrrr! I totally need a messenger bag with the winking skull on it. Or several winking skulls, in various colors. Wheee! Damage will eventually be done here.

All y'all have a good weekend. Safe traveling to those headed out!