I spent a chunk of yesterday's lunch break reorganizing my BlogSpot entry labels. I'd started with name-each-project... but the list was getting unwieldy - and uninformative. I still have to fix things further, but at least I'm started.

On the "otherwise started" front, I learned that maybe lace gloves on 3 DPNs aren't the best carry-around project. I usually have things that are (a) on circular needles, (b) don't require intricate counting and (c) have any stitches involving more than two vowels (possok??). On the other hand, I'm actually having fun with my little size-one toothpicks. I'm having more fun with my stylish metallic-blue paperclip stitch marker. (Fun with office supplies!!)

More importantly, I've got a Thumb Gussett (stitch holder) *and* a pinkie finger (red arrow). Slowly, but it forms... oh, it forms!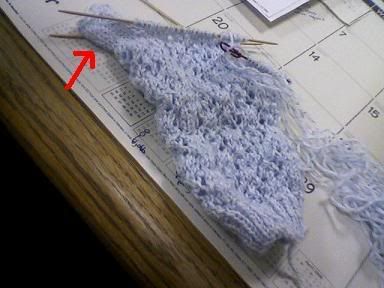 The Unnamed Sweater is almost done. It's been sitting like this for almost a week now. The bright dots (pins) next to the bright circles (the buttons) are my proof that no, all I have to do is attach the damned buttons. Maybe tonight.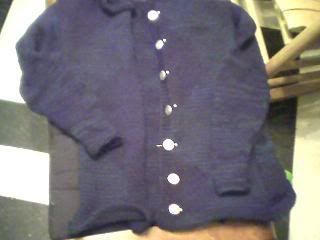 And in holiday news, Thanksgiving is over, so the Ivy Reindeer are now sitting at their table outside the local Starbucks.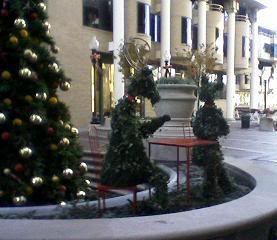 Coolest find for yesterday: Snowball's Chance In Hell armwarmers from The AntiCraft. These are SO in my queue. And I'm SO doing them with the Glow In The Dark Yarn I mentioned yesterday. I also found whatever the heck this is. I got to play a round of "where are the cotton balls hidden in the house THIS week?" Monday night, and this would certainly solve THAT problem. "Oh, honey, I'm pretty sure they're in the robot. Did you check the robot?"

On the Serious Side: A New Yarn is a shop in seattle that accepts donated yarns, books, tools, etc. A New Yarn is a not-for-profit yarn shop supporting the work of Northwest Family Life, a learning and counseling center that is working to solve the issues and impacts of domestic violence. Donations are tax-deductible. Contact A New Yarn if you have S.A.B.L.E. that you know you'll never use - it's going to a good cause!