Beads!
Yesterday, I accidentally wandered into Joy of Beading (if anyone needs a part-time job for extra holiday cash, they're looking for someone...). I walked out spending only $12.00 plus tax - on one more tube of beads for the Peacock Scarf (since I'm already 1.25 tubes down, and I only have two), and two strings of goldstone chips. I have *NO* idea why I love goldstone so much; the only jewellry I've actually managed to make for myself are a goldstone-and-turquoise glass choker and bracelet set. I'm also tempted to get a little bitty goldstone bear fetish from Fire & Ice, the world's most dangerous store, but I know better than to actually walk inside if I've got anything like "money" or "credit cards" on me. Or, for that matter, an "ATM card", since there's an ATM for my bank ten yards from the door.

Yarn!
The Sanguine Gryphon, who does handpainted yarns, some of which I might actually be able to touch. She's looking for designers to use her yarns for patterns. I'll probably try getting some in the next few months, coming up with something fun, and trying to publish. What the hey!

Photos!
First, the obligatory knitting photo. The Unnamed Sweater progresses; the sleeves are almost half-done (lengthwise). I may run out of yarn, but I've got a plan for that. If it happens, I'm going to rip back enough so that I have yarn for both cuffs (8 rows ea of 24st, garter stitch). Putting that aside, I'll use plain black to finish the sleeves, and do the collar; I'll then add black pockets to the front panels, and get plain black buttons. If I have enough yarn, no pockets and fancy silver buttons. No worries, either way.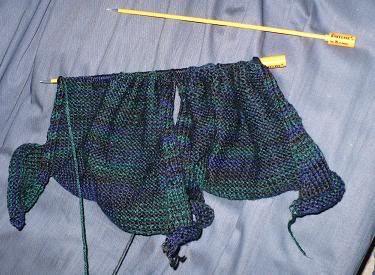 Now some people say crafting has no practical applications. These people are just uninformed (or willfully ignorant). I submit to you the floors in my house. Using inexpensive (but durable) industrial tile and a new blade on my 24" rotary paper/cloth cutter, after charting on my cross-stitch software, I created the following fun floorcoverings in my house, since I can't have carpet (and hate boring floors).

First, we have the back room, cleaned for the S&B-that-didn't. It's a 8'x8' chessboard - and eventually we'll have pieces of the corresponding size to actually play the game. This one was done first, since it was the easiest.


Next up, we have the center room (a Greek-key maze) and the front room (Compass Rose). For some reason, I don't have a picture of the middle room floor, but you get the idea from the schematic, and the tiny photo in the set-of-three.


Top: Chessboard
Center: Greek Key
Bottom: TETRIS board
| | |
| --- | --- |
| Compass Rose in progress | |


Finally, the two back rooms. Originally, the Shoo-Fly Quilt Block was in what was gonna be my craft room; the Tetris board in my husband's computer room. Sadly (for him), I have more stash than he has computers, so we have floors inappropriately matched to the purpose of the room they inhabit. Not that either floor is presently visible, of course.


Purple walls and Quilt Block...
Computer room.
Orange walls and TETRIS floor...
Stash room.



All done with a rotary cutter
and Imperial industrial tile.


See? Without all my crafting stuff, I wouldn't have dared do stuff like this - but, since I craft, it was EASY.
To execute, anyway. Getting it all actually done DID take about a year.

Happy Thanksgiving, everyone!