Ooooops.

I had a Yarn Accident. Or rather, Diane Zangl drove me to it. She's got another pattern in "Knit n' Style", to which I can assure you she's a regular contributor. Of all the designers out there, something about her patterns just click with me; of all the designers out there, she's the one that will definitely cause me to buy (or not buy) a magazine; and, of all the designers out there, she's the only one I'm 100% certain I've knitted at least two things she's designed.

Or, rather, about two and a quarter, as of last night. You see, first there was the yarn, Reynolds SANTANA in "Peach Pink Green" (Hmmm. There are skeins available on this website. I could use three more skeins... or five, then I could have sleeves... Hmmmm.):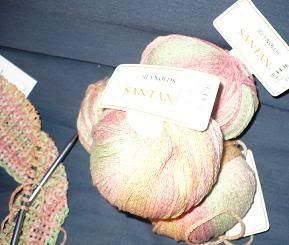 ...and then there were the magazines. I bought the latest Knit n' Style, Knitter's Mag and Knit 0.1 on Saturday night. I flipped through them at the store, and decided that yep, there's something I'd knit out of each one. To wit:

Knit n' Style: Diane Zangl's "Britney Top" (See Fig. A in photo, below)

Knit .1: I picked this up despite many truly hideous "future" designs (although the top right Vulcan-style top is OK), thanks to the really cool cape in the "Back to School" section (a photo of which I'm not finding on line; See Fig. B in photo, below). The magazine actually lists itself in the engines as "for hip 18 to 35 year old knitters". Because once you're over 35, you're just HOPLESSly uncool. Yeahright.

Knitter's Magazine: the "Rustic Redefined" sweater/jacket, bottom left photo, sort of. Trust me, the rest of it will be scrummy... and I finally have something to do with the sixteen skeins of "Colonial" Lionbrand Homespun in "Colonial". Frighteningly, when I re-began knitting and crocheting in the mid 90's, after the "Ewwww, that's what my mother does" hiatus after high school, I really thought I'd need sixteen skeins for a sweater. (I wanted to be sure I had enough.) I also want to do the "Fine Imitators" bolster - in the yarn that would have been my Southwestern Mosaic shawl, but got unwound. (See Fig. C in photo, below) I think several pretty bolsters would be *much* more fun (and much more useful in my that's-still-not-enough-pillows style of decorating).

So, yarn accidentally fell onto my needles: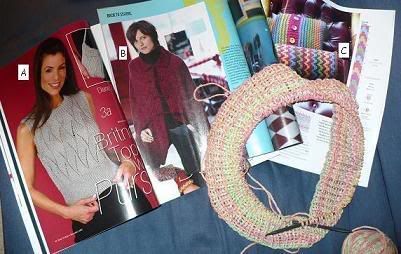 ANYway, I have five balls of the aforementioned yarn, and that should be just about enough to get me my very own Britney Sweater, or something like it if I do run out of yarn. And, since it's in the round with just one strand of yarn, minimal patterning and no steeks, it should just fly off my needles!