I'm giving some thought to also trying the Mystic Waters Lace Shawl knitalong, run by Knit & Knag. It has its own blog, and you just need to e-mail Anna to join. The only reason I can really consider it is because I'm going to be at the Stitches East Market before it starts. And if I can't find 1,200 yards of laceweight non-wool in a color that screams "I am Mystic Water!" at the market there, there's something SEROUSLY wrong with the universe. Market is also about ten days after Secret of the Stole's first clue drops - if I've finished it by then, I may be allowed to start TWO shawls. Oooo!

(And let's not forget that it's been a week today since I did anything on the Cat Sweater, and it's "due" by the end of October, too. It's still sulking - mostly because I forgot to print out the top half of its pattern AGAIN. *scurries off to remedy this to stave off further sweater sulking*)

Cup-o-Shawl is going through my mug collection, trying to decide which mug will be its new home. It's presently torn between the mug from the original Hampsterdance.com, the 10th Anniversary "Star Wars" mug, and making me go out and buy a nice, clear mug so it can be seen properly as it visits various locations. Honestly, when did my knitting projects start getting so pushy?

At least the Britney sweater is behaving. Four more rows, and I'll be up to the armholes. I'm going to (gasp! shock!) deviate a bit from the pattern so that things will work for the oddities of my short-waisted figure. (Short waist: I'll never model lingere. Not that anyone's been offering to have me do so, outside of my spouse, since I quit modeling back in the 80's.)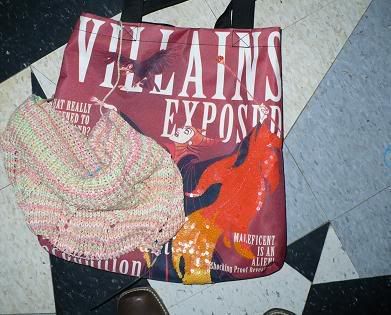 My lovely sweater. At least this project hasn't given up on me yet.
Either that, or it likes either (a) my cool Disney Baddies Tabloid Bag or
(b) the lovely inlaid tile floor I did in our front room.
Yes, I actually have a Compass Rose in my main room.
And a Greek Key, Chessboard, Shoo-Fly Quilt and Tetris Board
inlaid in the floors in other rooms.
Iz crafty.
Iz allergic 2 carpetz, I needz kewl floorz!


Okay, so there isn't a dramatic amount of progress since yesterday, but There Will Be. (Last night, I was totally NOT going to get sucked into any of the new NBC shows. Instead, I was actually watching "Life" intently enough that I wasn't actually able to knit at the same time.... *sigh*)

I was muttering to myself yesterday about getting together a crafting PodCast. Once the house is in a bit better order (and I'm taking a week off in October to make it so), I may look into the whole getting-a-site-and-going-for it, starting in December. Because November is "minimal knitting month" - aka National Novel Writing Month, aka NaNoWriMo, and I've been participating (and winning) for several years. Oh yeah, I'm a writer, too, in case you hadn't figured that one out yet.

I will knit at lunch. I will knit at lunch... Drat, might not get lunch at all today!