First, the Knitting:
Well, I'm zipping right along on the Cat Sweater - all the ribbing and one set of paw prints done! I'd be a bit further along, but I had to take the next three rows out three times before I realized that the "KITTY" in the second set of paw prints actually starts right at the edges of the blocks for some letters (not all, of course, because that would be too easy). Guess what? Picking up stitches in Fair Isle when you're carrying a LOT of stitches, and need to switch up the colors, is a PAIN. But I think I've gotten everything started properly (fourth time's the charm?)...

And a closeup, so you can see the paws and heart thus far:

And now, the Fun Tour of my Stash!
First, the left side of the room. The entire wall (all six feet of it!) is covered by a lovely IKEA shelf system that just happened to fit perfectly in the space left over by my little folding shelves (under the window) and the loft bed. No, really, there's a bed in this room, under all the stash.

A. The almost-finished Sept. 11 memorial wall hanging I've been working on for six years now. It's all pieced (in reds, whites and blues) in Shoo-Fly blocks on the front, and I'm carefully quilting hearts and stars so they look good on both sides. All by hand; hopefully finished before this time next year.
B. A really cute little top-down t-shirt style sweater I made from some fluffy baby yarn. It's almost cool enough here to start wearing it again - yay! It's really soft, and, since there's ribbing throughout, quite flattering.
C. This is a corner shelf full of Pounds o' Yarn. When Ames went out of business here, they had a huge yarn department. After the first week, they cut all the craft stuff to 70%-90% off... so we bought 'em out of any yarn we thought we'd use. About half of it is here (and that's an 8"-tall shelf); the rest is in my mother's attic. I really *don't* need to buy yarn to make sweaters for a good, long time. (Example: the Cat Sweater. The beige and chocolate yarn came right off this shelf, where it's been living for the last four years, waiting for its chance to shine.)
D. This is a stuffed squirrel, a promotional gift from some healthy cereal I was eating a while back. (I would like to note that it was a gift; I don't get squirrel things on my own. They find me, instead. Someday, I'll tell you the Saga of the Squirrel Wars.) This squirrel is wearing a particle mask. To date, no family member has 'fessed up to putting the particle mask on the squirrel.
E. Two green Bongo Bags full of yarn. Bongo Bags are WONDERFUL. I have four green, two red, and two orange. One red and the orange have nothing in them as yet, but reorganization (as you can probably tell) is still happening.
F. These are two-sided Hot Wheels carriers. The kind that hold a MESS of cars. Guess what? They also hold cards of embroidery floss perfectly! Right now, mine are more or less all DMC (some Anchor, some generic have snuck in) and are sorted, more or less, into color families. While there are a couple of boxes that are numbered, and mostly in order, that system breaks down very, very quickly. You'll note I have more than a few of these boxes.
G. Yarn is also stored in clear, under-the-bed style zippered bags, if it all goes together. This is a bunch of skeins of Lion Brand "Homespun" in a colorway that hasn't been seen since the 90's. I have twelve skeins of it, since when I really started knitting and crocheting again, I thought that's what I'd need to make a sweater. Once I determined that three skeins would've done it, what I had done on the sweater got unraveled (and unraveled and unraveled) and shoved in a bag. Eventually, just seeing the yarn won't make me cringe, and I'll try doing something else with it.
H. Another green Bongo Bag full of yarn.
I. A red Bongo Bag, half full of yarn.
J. A really cool one-skein project: start with three stitches, knit around. Keep adding stitches and knitting around until whatever the color variations of the yarn are (use varigated/ombre for this!); then just knit around. Make matching tieoff somehow. Fill with yarn. I found this jammed at the bottom of the bag that was holding the Dragon Illusion Blanket - and it's a bag! It shouldn't be in a bag *with* yarn, it should be a bag full *of* yarn!

Now, the right side of the room:

A. The shelf of Specialty Yarn I don't know what to do with and pillows I bought to stitch up for my grandmother years ago (she passed away in 1993). Some of this may be traded for other things at Stitches East in October. It's good stuff - I'm just not sure why I have it in the first place. We've all got a small corner like this. I hope. At least I don't think it's just me...
B. My lovely Oriental rug, which will eventually be in the front room of the house, once construction is finished. Construction should be finished by 2012...
C. Each one of the bags you see hanging up here has at least one cross-stitch project in it. Several have up to five. While I can't remember what is in which bag, it's fun trying to find things when I need them. Sort of like a treasure hunt in my own house...!
D. Barely visible, there *is* a bed up here. Right now, it's covered in fluffy orange blankets and 100+ picture frames and glass. When Total Crafts went under, mom and I raided the frame departments at each store in the area, getting frames that matched that we knew we'd use for things, and getting the glass cut at the same time. All 60%-80% off - and getting the frame and the glass is the tricky part of framing for us. Eventually, construction will be finished to the point that my two BOXES of finished-but-unframed needlework will be framed. Yes, I know I have a wall shortage in my house. I just figure I'll rotate through it every month (although my mother has volunteered to take anything I don't want for *her* walls)...
E. The orange Bongo Bags, tucked behind the ladder to the loft bed. Behind them are some completely inaccessible file cabinets that will eventually hold all my small notions in a nice, orderly fashion.
F. A HUGE freakin' bag of crochet thread in almost every color and various weights. There was an estate sale down the block at the beginning of the summer; I got two BINS of crochet thread and assorted tools for $5. I also got a finished and framed cross-stitch of Arthur & Guenivere (and a peacock!) for $20. As in "materials were at least $20, even in 1986 when it was stitched, and it's a $200 frame job". What a bargain!! (Yes, if it's on sale, I buy in bulk . You never know when your area might run out of yarn, crochet thread, or totebags!)
G. The Glorious Fuzzyness. This is a blanket made entirely out of the thick baby chenille Bernat had out two years ago. This blanket weighs a TON - no babies should ever be placed underneath it! - but it is SO warm.
H. A bag from In Stitches. It is presently holding yarn, four handpainted canvases, and a bunch of cross-stitch patterns. And probably some fabric, as well. This is not the only bag like this in this room, but it's the only one that's easy to point out. Which tells you something about how much floorspace I actually have in here.
I. My lovely orange knitting bag (the official one), a birthday present from one of the S&B'ers a few years back. It's currently holding the yarn that was the Yellow Fleck Sweater, before I unraveled it, and a cross stitch project I got the morning I had surgery, because I needed something small I could do in the various waiting rooms, and I couldn't actually lift any of my stash to *find* a small project. (I had not yet taken over this room at this point - everything was jammed in a corner of our back room, in and around the couch.)
J. The two shawls I made last year - my turquoise-and-green silk, and my Ty-Dy, both done in a variation on Meg Swansen's "Shaped Triangle Shawl".
K. Boxes and boxes of craft books and kits, in front of the under-the-loft shelves that the books are supposed to be on. Not quite sure how the physics-defying feat of getting the contents of all those boxes onto those tiny shelves will be accomplished as yet.
L. The yarn for my this-will-actually-fit-me red, white and blue all-over cabled sweater. I made one of these, and didn't really understand, at the time, that cabling takes a LOT of inches off a project. When I lose 80 pounds, I MIGHT fit into the sweater I made. But I'm not getting rid of the one I've finished until the new one is done. I'm just not!
M. Last, but not least, the lovely wicker basket my mother got me to put "all my yarn in" a few years ago. Slightly after the Ames going-out-of-business buying spree, so she should've known *that* wasn't going to cut it. But it's a lovely little basket!
Photos of projects somewhat visible or mentioned above:
The Glorious Fuzzyness, when it was almost finished. It's actually on a blue background, but I like the fact that it looks black.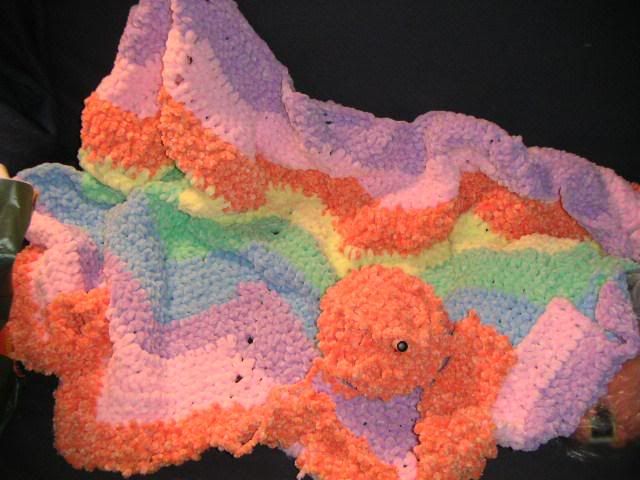 Ty-Dy shawl (in Ty-Dy cotton). Actually my photo; doesn't it look artsy?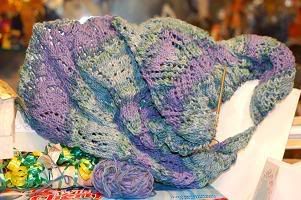 Shaped Triangle Shawl (Alchemy Silk). Just as a note, I BUILT those cupboards it's hanging from. I gots mad carpentry skillz.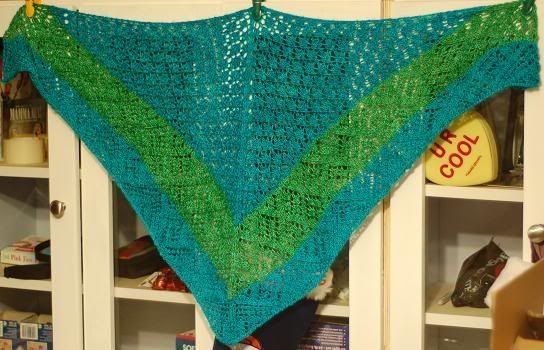 All-Cabled Sweater, accidentally made for someone half my size (Red Heart TLC).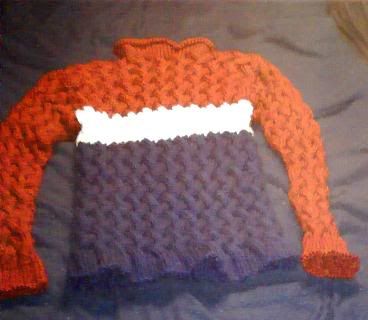 The next tour of the Stash Room will be conducted once enough changes have been made that you'd actually be able to tell something was accomplished just by looking at a photo.