The seamed Rowan Glace Sweater, with Take Three on the button band well underway. This should be finished today, and then on to the Great Sleeve Debate. (Basically, I could do sleeves, easily. But do I *want* to do sleeves?)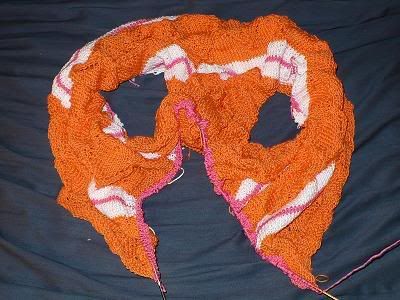 Closeup of the button band. Girl buttons go on the LEFT. My carpool knows this, after calling my driver's friend Lois just after 7 a.m. to go have her look in her closet to see which side the buttons went down. I've never met Lois, but she must be pretty cool to take odd knitting telephone calls from people she doesn't know at seven in the morning on her day off...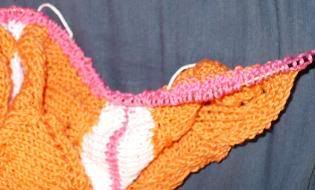 Turns out a button band picking up every row straight on to the needle doesn't work well. Nor does every other row, even if you knit it on as you go. The rule is, and shall remain, pick up one stitch every nine rows all the way around. Diane Zangl said this clearly in the first pattern of hers I did from Knit'n'Style: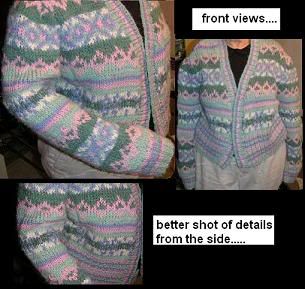 See? The button band works fine, and clearly I knew the rule. But I just *had* to see if there was another/different way. Bad, bad knitter. Stick to what works for the basic stuff, OK?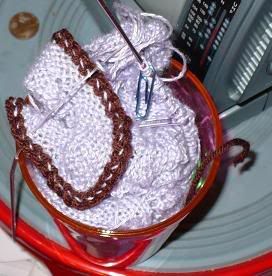 While progress has momentarily halted on the Lilly of the Valley Shawl, I discovered that a good way of keeping my ball of yarn from running away is to put it in one of the wonderful new shatterproof orange cups my husband got me. Keeps it from getting squished in my totebag, too.
Now, on to the new stuff: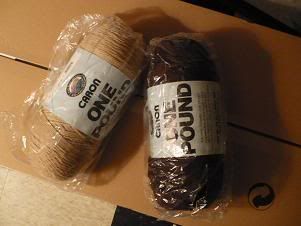 The beginnings of a sweater: two pounds of yarn. In past experience, one pound of yarn, intermixed with some other color, gets me a nice cardigan. Two pounds of yarn might get me two cardigans... or a cardi with matching hat, scarf and, if there's enough left, mittens. Either way, I get to watch my mother freak out again when I cut my steeks, which is always fun. (And she's the one who's all about stitching in the round whenever possible. I don't get why steeking bothers her so, I really don't!) Hm. I don't seem to have a picture of the last Fair Isle sweater I did - steeks and all - and I wear it a LOT. I wonder where it is? Hm. Looks like I'll need a sweater-hunt sometime in September. I'll post a pic when I find it; it came out really well!
This is the first pass at the design for the Cat Sweater. Originally, I was going to do something more like a zen-brushstroke cat on the back, but that was deemed (by me) boooring, and much easier to do if I was duplicate-stitching afterwards. There's no challenge there! Thus, the random pawprints with hidden words. I'll be switching it around so it says "Here Kitty Kitty" vertically down the front ("Here" on the right, "Kitty Kitty" on the left), and see if I like that better. This will be cast on as soon as I'm done with the needles I'm using for the Glace Sweater. Really.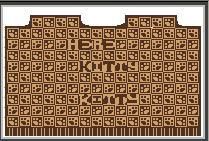 Copyright CJB 2007
Blast from the Past:
And just for fun, and because all the cool kids have tons of photos in their blogs, here's the Dragon Illusion blanket that didn't get pulled out, since it's much farther along than I'd remembered! If you're not familiar with illusion knitting, here's the thing. Straight on, it's a black-and-cream striped blanket. Viewed from a 45-degree angle, suddenly it's a black dragon on a cream background. This is SO going into knitting shows when it's done, just for the "Ooooooh!"s it'll get!