Another "row" done on the Cat Sweater: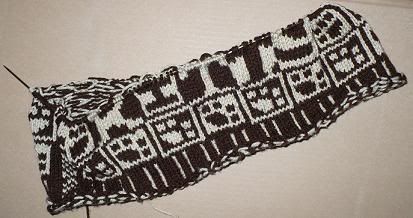 I'm not sure if I'm *completely* in love with the lettering - it might be too easy to read. Will have to see how the second set (in "row" four) goes. I'm really liking the hearts and the paw prints, though.
I'm hoping I'll be able to keep churning through a "row" a day... this would give me plenty of time to figure out things like "the lining" and "sleeves". Remember, this sweater is due at the end of October if I want in on the Prize Drawing!

Tag, you're it!!