Okay, Cat Sweater... um. I really shouldn't give myself super-duper hard deadlines on projects. It just makes me avoid them. I did manage to pick it up this morning, and I've finished Thursday's row and half of Friday's. But there will be no saying "Oh, this? I just started it last week, and I only have to finish this sleeve" to Stephanie Pearl-McPhee. Drat.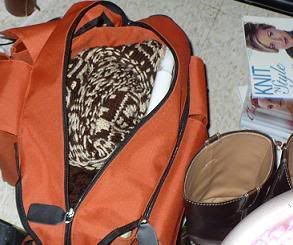 Most of the weekend, Cat Sweater stayed curled up in its nice, warm carrybag under the bright, warm lights.

On the other hand, I got some cross-stitch done on a 16th Century Knot Garden that I bought back in the 90's (... okay, so if I *have* deadlines, at least I finish things in a timely manner...), and Brittercup Designs' 2007 ornament from the Just Cross Stitch Ornament Issue. I actually finished the ornament; pic over here (for those who care about that which is other than knitting).
I *will* have progress pics - and actual progress - to show you on the Cat Sweater tomorrow.

Oh, and did I mention I was out sick yesterday... and didn't knit ANYTHING? How sad is that?