Since my Tilting Tardis Shrug for Transfiguration might not (well, at this point, WILL not) get done in time to be turned in, I zipped up a set of Glass Cozies for Potions over the weekend, and turned them in yesterday. They came out well, and they do, in my opinion, beautify the glasses nicely. (And they soak up condensation and help prevent table-ring. Not entirely; I need to make some full-glass-sized ones for a class *next* month.)



I was at a dead end for Herbology; I had the idea of converting a hanging jewelry holder, with its dozens of tiny pockets, into a much bigger-pocketed needle holder. This could hang off the door of my craft room without taking up much space - and I'd (FINALLY) be able to find all my needles when I need them. Started it on Monday night, and got IMMEDIATELY bored to nigh unto death.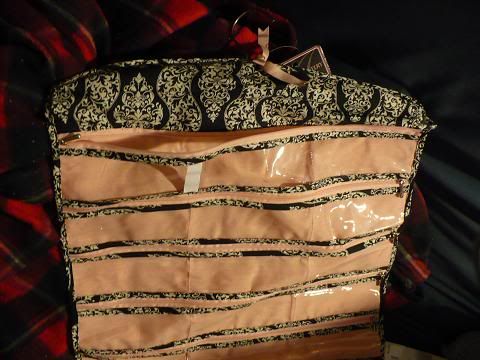 So, yesterday, I turned in Potions (so I'd at least have six classes), then looked through the threads for Herbology and Transfiguration. Hm, my brain said. Look - lots of pretty arm-warmers/fingerless gloves for Herbology. Those are pretty quick and simple. And look, there's a set of really pretty crocheted ones... and they were easy. See?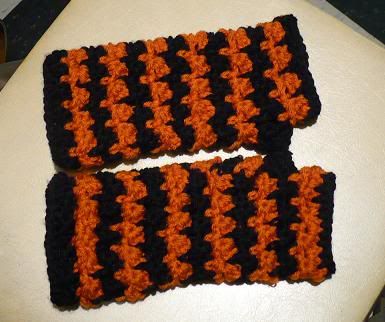 Getting a photo of both of them, when it's just me taking the picture? Not so easy.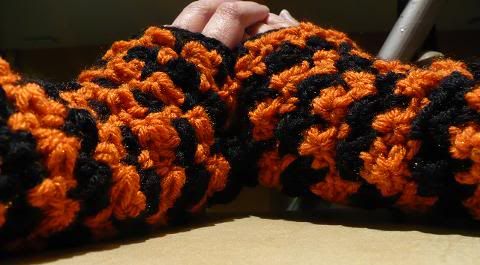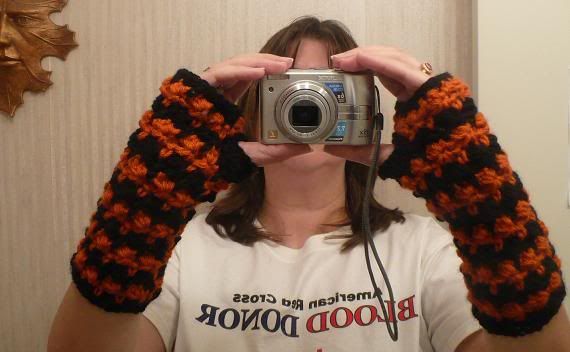 Then I had to decide, for Transfiguration (let's face it, the Tilting Tardis shrug is for detention next term!!), whether to make a set of Spatz, or to make a Who? Hat. Based on available yarn and needles, the Who? Hat won, and I cast on this morning.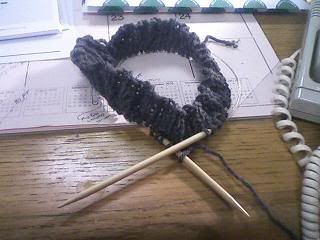 And no, I didn't really sleep last night. Don't really plan to sleep tonight. I have vacation coming at the end of the week, I can rest up then!!