Well, HPKCHC is galloping apace! I'm halfway done with class assignments - a bit over, actually. Today, I'm showing you my Defense Against the Dark Arts project. We were supposed to disguise ourselves (Polyjuice Poton!) as a fellow House Cupper. Last year, as a Firstie, I had the honor of playing Quidditch with a really great team. One of the shining lights of the team was [MaggieLo](person), our UPWRAUQLB (UnofficialPersonWhoRUnsAroundUndertheQuafflewithaLaundryBasket). She really helped make Quidditch fun for everyone on the team - and managed to keep track of the Quaffle. (NOT EASY!)

Here's part of my scroll:

A popular student like MaggieLo? Who'd suspect *she'd* do anything unseemly? Her sunny personality and general liked-ness make her an ideal candidate for disguise, if one were the sort to need a friendly face to, say, sneak somewhere that just maybe one mightn't ought to be.

(Not, of course, Professor, that I'd ever do any such thing.)

For comparison, here is a static image of MaggieLo (ie, this is the pic I was trying to, more or less, copy):




And here is me, wearing my disguise: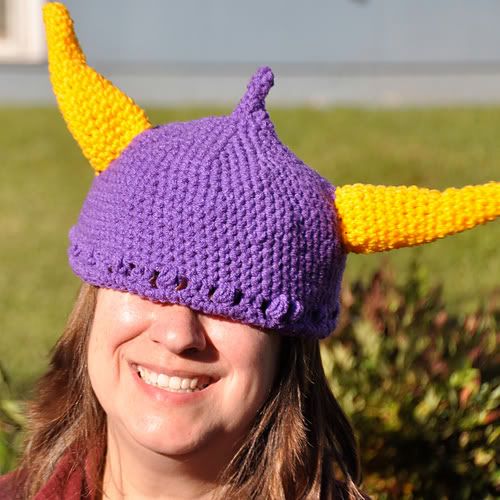 It's a nice little hat - based on the Viking Pride Hat on Ravelry, done in Vikings colors. (Anyone want a slightly wonky crocheted Vikings hat?) It's a nice little hat: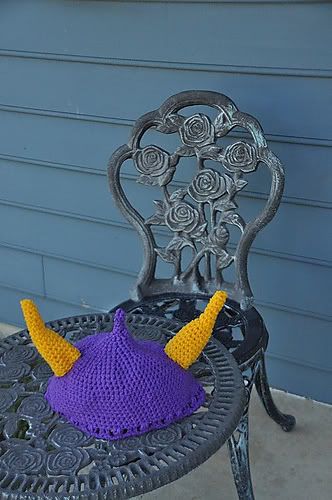 (And thanks to my cousin for putting up with my crazy and helping me get the photos!!)

So, that's one turned in. Here's where I am on everything else:

Charms - done, waiting for good light for photos
History of Magic - same
Flying - still damp from the blocking but OMG it looks good
Arithmancy - cast on, and version III (or am I on IV now?) seems to be working this time
Transfiguration - casting on today!
Potions - will do last week, so the above six are the ones with the grades
Herbology... still really no idea, but a needle case is looking like a really, really good idea!
OWL - 1.5 of four swatches done. Hoping to turn in proposal tomorrow or Thursday
Quidditch - got all the yarn. Now I just need to get with the knitting!

Whee?