So, there I was, minding my own business, and I discovered a Horrible Needle error.

Okay, okay, fine, I was bored, so I started playing with yarn candy again. This happens. Today's ball-o-yarn is cotton of some sort; it's got great drape, but it's a bit splitty. I tried it on size 1 needles - too tight. I tried it on size 9s - too loose. It looked like size 4s were going to be right on target.

I actually know where a pair of size 4 needles lives. In my Hello Kitty camera bag (hey, it was $6, and it's the right size with a long enough strap for convenient small project toting).

Sadly, these needles are already knitting my LabCat Lace Scarf. Do I let that stop me? Heck No! We've all heard of knitting two socks on circular needles, right? And these are two small flat projects: the LabCat Lace Scarf, and another yarn candy headband. Same basic principles of "don't tangle your balls" and "knit all the way across both items before turning back to avoid confusion/lopsided projects" should apply. Ergo, Two Projects on One Circular Needle: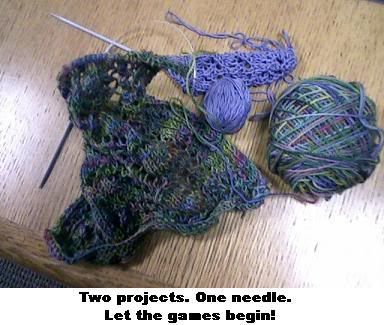 And look, I actually finished one of them!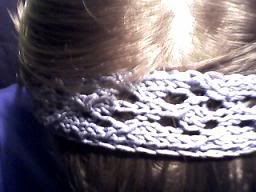 Turns out this was a good thing because I finally got out to Nature's Yarns on Saturday. It was dead, dead, dead in the store because of Sheep and Wool, which left me lots of time to rummage around the 50% off bin (can you say deep pumpkin merino laceweight in vast enough quantities to make the Peacock Feathers Shawl (which is henceforth renamed the Phoenix Feathers Shawl)?), discover the stash of Tofutsies, and delight in the notion that DPN Tubes come in two-packs. Photos of the haul from the GOOD camera tomorrow. And the already half-finished pair of socks. Not, please note, a half finished sock. A half finished PAIR of socks. WoOt!!

And how was your weekend?