Okay, so, Thursday last, I went to Sweet Life (this is when Husband was too sick to make the trip to Detroit, but before I realized that I was gonna be that sick, too) to see people's Sheep and Wool stuff. It was all beautiful, and fuzzy, and wonderful. My favorites from vendors I don't already know are pictured below:



I mean, this stuff totally looks like ice cream to me.
If I actually ever got my hands on it,
I don't think I'd spin it (even if I learned to spin well).
It's decoration.
It's so wonderful existing just as a

Giant Ball of Fluff!


Over the next few days, during The Sick, I could still coordinate one hand working. Thus I finished my Michael Powell Tiny Cottage II:



And, this morning, I took advantage of the only sunshine we may get for a while (that I've been out to see) to take a picture of my almost-finished Fern Lace socks. I just have the top ribbing to do on each - this doing-both-at-once *really* works for me. And because it's an open, lacy pattern, I totally have enough left over for a couple of matching headbands, or maybe a whole headscarf. (Seriously - one ball of TOFUtsies is a LOT of yarn!).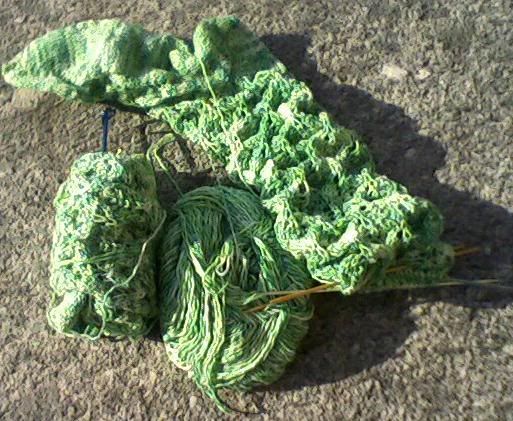 Finished socks, really, REALLY soon now!