So, I've turned in three classes; there are three more I *must* turn in, and four I'd *like* to turn in. Plus, I would like to get the points for my 50% OWLs, but I might let that go and just go for the completion points at the end of March. Here's where I was as of Monday evening.

First, my Arithmancy OWL. At this point, I need 11 balls done (or the strips knitted for 11+ balls) to hit 50%. As of right now, I have four completed balls, plus three dozen strips for more balls. Ideally, I'd have 42-45 strips, which would be enough for 11 balls, and the halfway point (as I've already made balls from 27 strips).



OWL strips, three dozen


My Lobster for charms is languishing. I MUST finish him; it's sort of a group project. At least I'm up to the red part on the next round, which means the body (the part that takes longest) is almost done.



Lobster



I have one of my Care of Magical Creatures mitts finished, and I LOVE it. I just hope I can finish the second one. They'll have to be blocked... but, honestly, that might happen AFTER I turn them in. Also, messed up with the fitting; when I thought I went down two needle sizes for the wrists, I didn't. Will make the same mistake on the second mitt, so they match.



The Left Mitt



I finally got to the flames on the chest-part of my sweater for Herbology; once I get past that, it should be smooth sailing. And there's some real incentive to NOT be trapped by Second Sleeve Syndrome - I really want this sweater, and it's going to be too warm to wear it if I don't finish it up this week!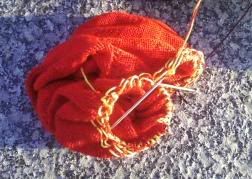 Tuesday, I started my Hallowig, for Defense Against the Dark Arts. It's a joint project with GeekyDuncan of Hufflepuff... we're each making one. So, like the Lobster above, this HAS To get done. Luckily, it seems to be a very quick knit!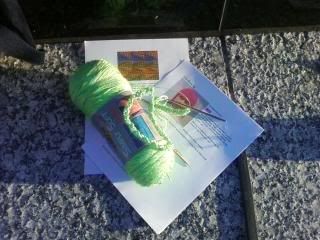 Given that it's possible I'll finish the four classes above, I might as well try for the eighth. I found this little origami folded purse, and since I just *happened* to have Slytherin-appropriate colors (and c'mon, it's five little squares), I started it last night, too.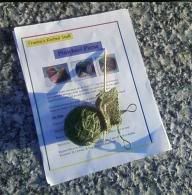 So, may say goodbye to the 50% points on my Ancient Runes O.W.L., but will stay FIRMLY on the crazy train. March will start with me FINISHING said Ancient Runes O.W.L. before getting anything else started!! WOOhoo!!