Spiffy New Thing for all the stitchers out there (you know who you are): Kniterdone of Meet me in the Dayroom fame pointed out the new Stitching 'n' Junk podcast, which is a hoot. Clicky on the picture to listen, free!



You can also subscribe through iTunes (which is what I did). it's kicky, it's offbeat, it's fun, and hey - you can listen and stitch at the same time!


As long as we're discussing Spiffy New Things, I spotted this at A.C. Moore weekend-before-last: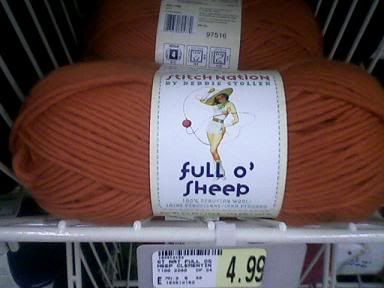 Yep, Debbie Stoller, of Stitch 'n' Bitch fame (TAKE THAT, people in NYC who tried to TM the phrase! Ain't gonna hold up!), has her own line of yarn. Read all about it on the StitchNationYarn site! Looks like the Full O Sheep is a good felting yarn; I'm sure there will be a felting class (or, hey, a felting O.W.L.) in my future at HPKCHC, so I'll keep that in mind. But yay, Debbie! Yarn!!

Also, added this to my library: Shirley Paden's Knitwear Design Workshop: The Comprehensive Guide to Handknits. Wowza, this is a great resource - and it's spiral-bound, so it actually lies flat!! (I'm all about spiral-binding. I took the spines off of most of my sheet music complilations & spiral-bound them so I could actually put them on the music rack and play. Spiral-binding is a wonderful, wonderful thing.)



If I hadn't already known about this book, I'd have picked it up on the basis of the sweater on the cover alone! However, I found out about it from The World's Best Knitting Video Podcast, Let'sKnit2Gether. If you're not already watching it, you should check it out!!

Okay, that's enough fun new stuff for this week....!