On the left, attempt 1. Had *not* figured out the placement of the increases here, so instead of a pretty soaring diamond shape, I got something that didn't quite... soar. At all. On the right, not only did I figure out a crossed-over cast on that no hole in the center whatsoever - it actually looks like there's a column of knit stitch across the center. I'll never be able to recreate this, so I'm glad it worked this time! The center of the tam (gold, light blue, red) is yarn left over from Sanguine Gryphon's Fairy Tale Sock Club #1 No. 3 socks; the lighter cream and yellow, and navy and forest (and purple, when it appears), are all Dale of Norway 'Baby Ull'. Baby Ull, in my opinion, is the best stuff ever for small-gauge Fair Isle. I've done colorwork before, and it's never gone quite this well!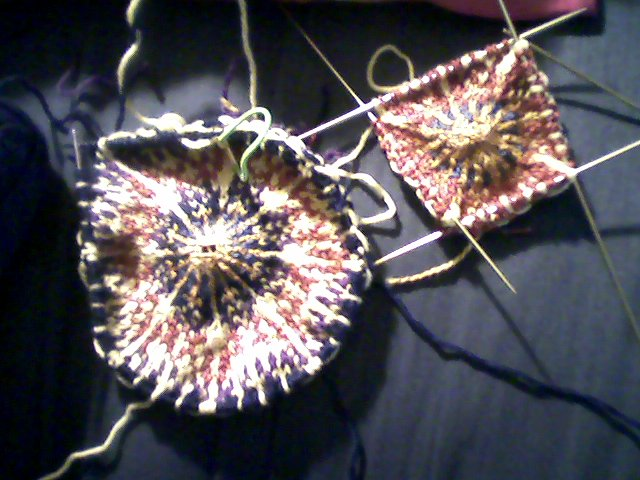 I'm trying to keep close(ish) to the actual colors of the tam, without actually knowing what they are, and having somewhat blurry photos to go on. (Perfectly nice photos, really, but tough to see each individual stitch, and figuring out the increases would have driven me mad, but for my boss loaning me a book on Tam Construction.)

That light green outer ring? It looks a lot more electric in real life, so it got frogged out this morning and replaced with dark green. I also had the laceweight Gaia (also Sanguine Gryphon) in the perfect shade of fern green - but I would've had to double it, and that made for Too Much Work Just Now. So, dark green it is, and the colors won't be dead-on - not that they would be, since I don't have a good indigo. (I still like my version; it's colorful, but, for me, quite calm.)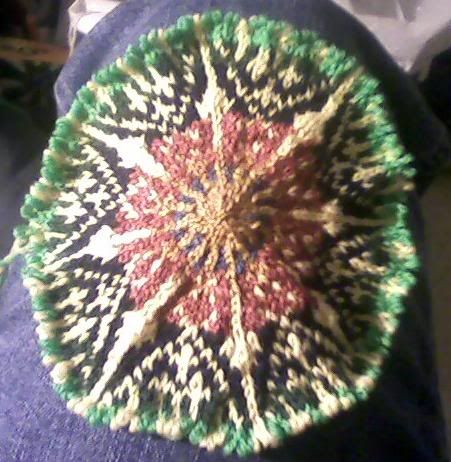 At this point, I've knit to this point on this hat TWICE, and frogged this second version many rows back at least once, but I'm on a roll. Not only that, but it's working up really, really fast. (If I'd gotten it right the first time and not had that horrid "lighter green" idea, I'd be past the turning point and almost to the ribbing of the brim.) Plus, I like the way the pattern is working out. I'm totally going to do this in a "you can't possibly miss this" combination - green, orange, hot pink, yellow, turquoise and black (as the background, just to punch up the colors.)

Just in case you were wondering, it's supposed to look like this: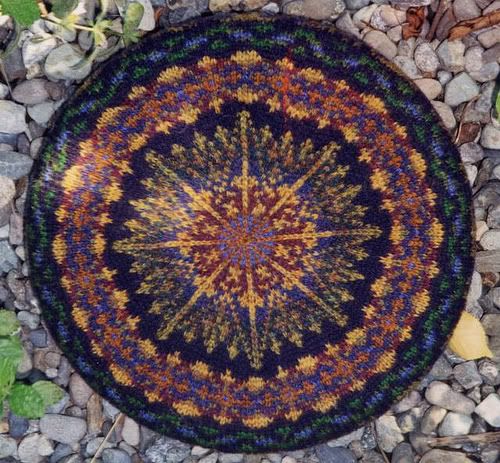 Midnight Sum Tam by Sandy Blue, for Simply Shetland


Oh, and I'm doing other knitting, too, and found a cute knitting book series, and got some great magazines... but that's for the rest of the week!