Standard with YoT posts, the images come from the designers in question; click the associated links for more designs and information.

So, last week, I found this amazing knit halter in the Ralph Lauren window nearby.

Love at first sight!


And I've found fashion-forward knitwear before:

Sonia Rykiel's Fall/Winter collection had this little gem, whic I adore...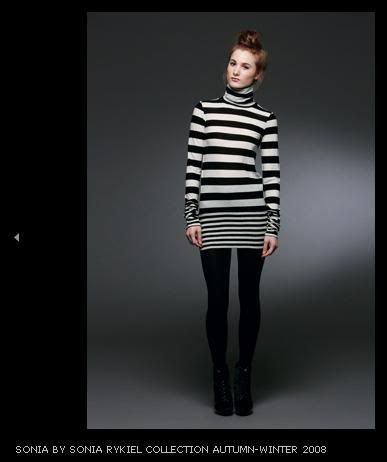 This Rodarte cardigan went for a mere $2,760, but I liked the look of it. Fuzzy and shiny!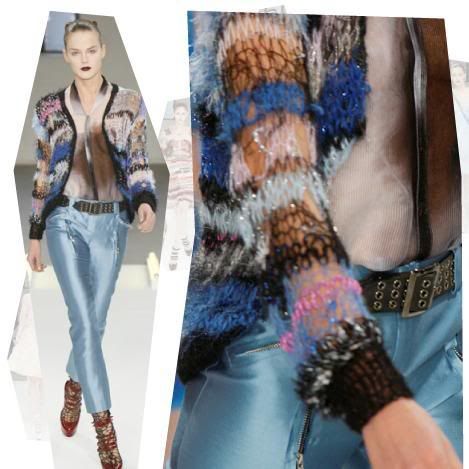 And Jeremy Scott came to my attention during the last cycle of America's Next Top Model, when he previewed some of his Opulence collection: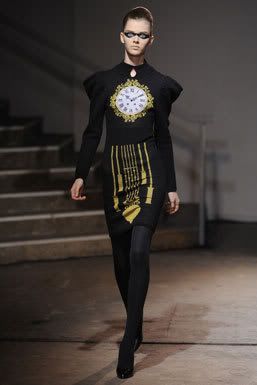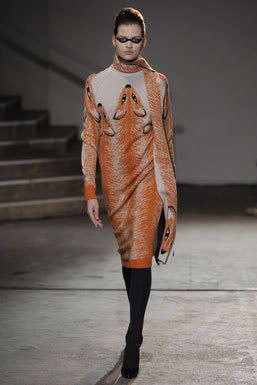 But what else is out there? There's so much that we can do with yarn - and there's a lot we probably never imagined (with the exeption of haute-couture designers reading this, of which I believe there are exactly zero). For example, Charlotte Pigg, sometimes associated with Julia Sissons (see below), won a visionary knitwear award for her work: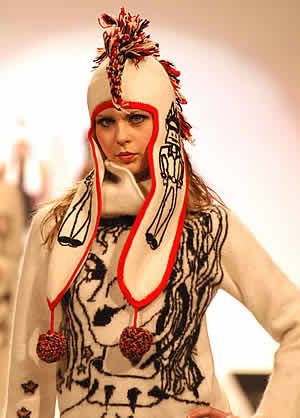 Isabel Berglund is an icon, really. Find all the photos of her stuff that you can, and just enjoy looking at it all!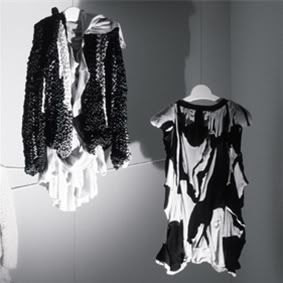 Juliana Sissons has a fun vibe to her pieces. Check the link to view more examples. This is my favorite:



Louise Goldin designs "luxury knitwear" (the hooded capelet on the left is my favorite):


Denise's "The Swelle Life" blog (which is fun even without the knitting references) has some really cool stuff on it. For example, click through on these two links: Cynthia F. - Metamorphasis Knits and Cynthia F. - The White Project

Sandra Backlund is billed as an Emerging Artist in the article behind the link. I just love this piece of hers!




Jemma Sykes is designed this for Butcher Coture. This is "the Elizabeth", a wedding dress:


Shannon Galati colaborated with textile designer Ya-Ling Hou on this collection:



But... I couldn't really see myself wearing a lot (if not most) of the stuff above. I'd like to, but I don't know if it would actually look good (I mean, the Sonia Rykiel dress up there? I WISH!!). I think I could probably get away with this little gem by Simone Shailes:



And then, there's the stuff I'd *actually* wear... like the Rabbit Sweater.

So, go ye forth and find your own favorite fashion-forward knitwear designers. I really like most of 'em - but I think for this year, Sonia & Ralph win for me!