So, this weekend, it was all about having fun. Saturday was Sorting Through Mom's Yarn and Shopping at Three Stores (A.C. Moore, Marshalls, Ross, then back to A.C. Moore and Marshalls).
Things obtained - and all on super-sale, too, so the total *won't* bankrupt me (but it did eat my part of our state tax refund):

5 skeins Caron Supersoft in Heather, to make my own (properly scaled) Tailored Scallops;
Latch Hook kit of giant sunburst/star thing (it's a Shaggy kit called "Nova") - the yarn is Caron Supersoft (!!)
Size 10 and 10.5 wooden knitting needles
Crochet hooks and project bags for all the girls at work (SERIOUS sale here!!)
Four long sleeve t-shirts in various colors
Peacock blue linen dress, suitable for all the upcoming First Communions and Weddings
Fun exercise DVDs
Several birthday presents for my husband
Cute little crystal rose tealight holders
A new SAK handbag - crocheted in green nylon (aka "the pattern to make a few more")
Sunday was a Giant Book Sale, A.C. Moore, tasty Mongolian stir-fry, and back to A.C. Moore.
Things obtained:

$33 of books: SF, Romance, and a four-year Spanish course complete with workbooks and Teachers' Guides.
Comfy-to-hold latch hook with puffy purple handle;
Tiny Panda-Bear Cross Stitch Kit (will be done by the end of lunch, thus under 24h)
Panda-Bear punchneedle kit (just to try - I just need a punchneedle)
Huck-Weaving kit (just to try)
Latest issue of Knit & Style, with two projects I want to do in it.
Things started were the tiny panda cross stitch and the second Tailored Scallops. The yarn for the Latch Hook Kit is sorted now, too.

About that Tailored Scallops... Look what I found at Marshall's: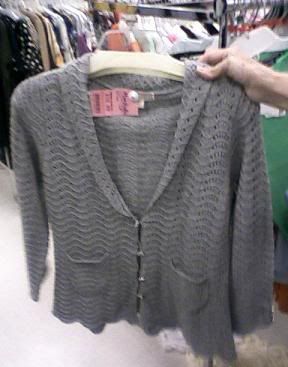 Yeah, it's Tailored Scallops, with ugly pockets thrown on the front, and a not-so-great "fix" for the button band/collar. (Having studied this pattern a LOT over the last week, when I checked, yep, the body pretty much follows the EXACT pattern, but for the collar construction and the ugly pockets.)