I'm in a subtle knitting race with Courtney, the Knitting Goddess. (Really, really subtle, so much so that this is the first she's heard about it. It's just been nice knowing there's someone else chugging along on thet same little project I am.) We're both knitting Beth LaPensee's Nutkin Socks, and (as of yesterday) we were both at about the same place. I have a totally unfair advantage, however, as my busy end-of-year crunch-from-hell at work ended last week, and hers doesn't end until next week. I made up for my unfair time advantage by reminding her that hiding in a stairwell and knitting a few rounds is better than killing a client, co-worker, or innocent passer-by. (If you ever think tax time is bad for you, work with accountants during tax time. They can forget all sorts of important things - eating, hydrating, breathing. And they vanish from the rest of the world pretty much from mid-February to end-of-April every year. I'm totally impressed that Courtney has any time to blog at all!)

Given this grossly unfair advantage, and the fact that I really want these lovely socks done, I stayed up *waaaay* too late last night, with the following result: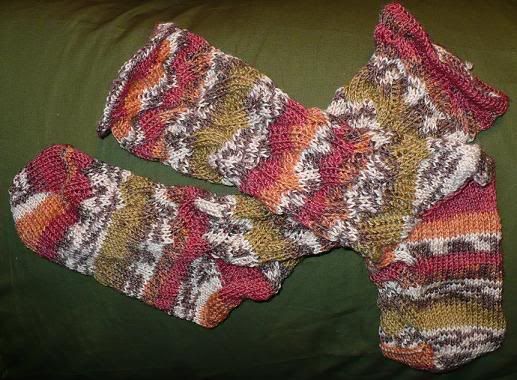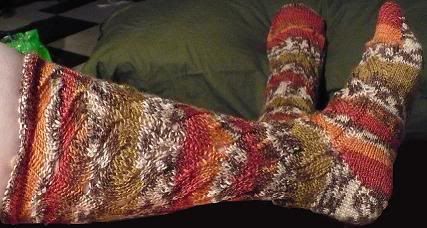 Yaaaaay! Finished socks, my first pair! Woohooo!!