Jess at Stitch DC Georgetown has come up with a good way to sell little yarn bits. Tiny leftover balls of fun, just fifty cents (fifty three, with tax)!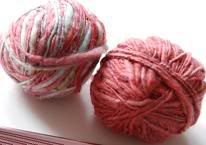 See? Itty-bitty yarn balls!


I got some... um... blue green black bronze ribbon ladder stuff, and I'm knitting a... hm. Headscarf? Hairband? I dunno. It's a triangle right now, and in its third iteration already. No, wait, it's a rectangle... fourth. And it's already finished, two days later... I have so TOTALLY gotten my fifty-three cents worth of fun out of it already.



Plus, since I'm attempting to save up for enough of the yummy silk-alpaca blend in deep rose for the long Katherine Hepburn sweater out of lace style, a ball from the Yarn Candy Jar on the counter will give me the thrill of yarn buying and playing with New Stuff, while still letting me save up the $$ for the Big Purchase. Wheee! In addition, if I'm having a tough day at work and neeeeeeeeed new yarn, I can get bunches. As you can see from the photo, there's more than one ball of Yarn Candy on my chair.

I must add that Yarn Candy projects do not count as "UFOs", since they're mostly just doodling with yarn. Because I say so. Besides, they'd fall under the 24-hour rule most of the time, anyway!!