This month's projects are galloping apace. The sixth and final Quidditch project for this term (really, I have to call an end to it if I want to finish my O.W.L.!) is a set of Slytherin armwarmers. I'm doing the "second year stripe" this time, due to having a lot more Forest Green Heather yarn than Grey Heather (and I need the Grey Heather I've got for Something Else). I've got the first one knitted, but not finished (needs buttons!), and the second one should be done soon.



For Potions, I'm making two little Owlet ornaments. I found the "actual" eyes used this time, and I really like the effect. (Which isn't to say I don't still love my Fierce Habit-Breaking Owls, but these eyes match the photo in the pattern better.) I found the softest white fluffystuff for the bodies, which are done: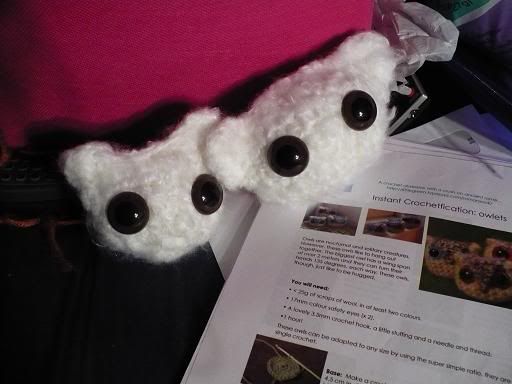 I'm hoping to find some Fun Fur in the storage unit tonight (there's got to be some in there, right?) for the head/beak bits, then I'll put ribbon hanging loops on them. I'm also hoping the Debbie Bliss Cahsmerino I got for my husband's watch cap (aka "Charms Homework") is in there - I can't find it in the house.

Lastly, the Headmistress Challenge bunnies are coming along nicely. The skin of the brown one is done, and I've started on the white. I'm hoping yesterday's Poppy will get me credit (10 points) for a Veteran's Day display, so these will be for two other holidays.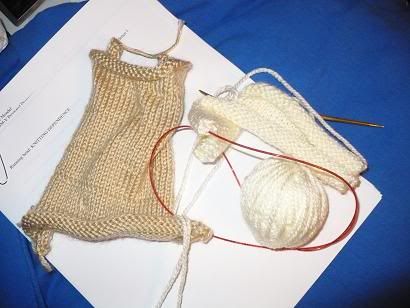 I'm hoping that I'll have the rest of my classes started by the end of the weekend, and have got going on my O.W.L. again. Yay!!