Okay, on to this month's classes. I've started Astronomy, Defense Against the Dark Arts and History of Magic thus far. For Astronomy, we have to make something star-like or night-sky inspired. I crocheted three little Star-in-Star ornaments. I still have to pin & stiffen them and tuck in their ends, but they're at least crocheted at this point: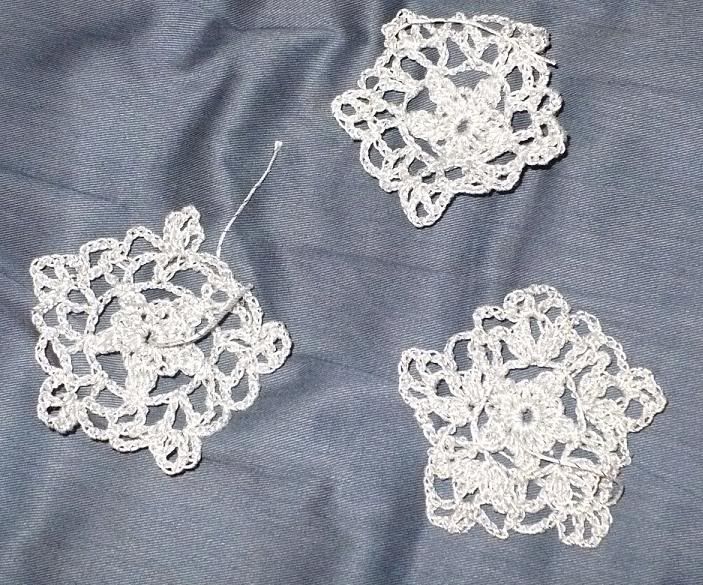 For DADA, I was going to make Flaming Mitts, but I kept going and turned them into Flame Mittens. We're supposed to make something that would help us combat FiendFyre; I figure "fight fire with fire" will work as a concept. And I've never made knitted mittens before; they're pretty cool, actually. And it's nice having them both roomy, yet somewhat fitted - and in wool. I really like that I can wear wool now; thank you allergy shots! I still have one more mitten to knit, as you can see, but hey, 50% done!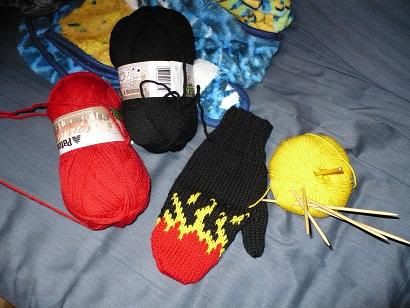 For History of Magic, we're supposed to craft an example of Goblin metalwork. I'm going to try knitting a wire beaded cuff. I've never knit with wire before; I got a pair of sacrificeable needles, since by all reports, metal needles are the only things to use whilst knitting wire, and wire will chew them up. I'm using small-gauge beading wire, and it works fairly well - there's a knack to it that I just might have by the end of my cuff. I'm hoping I'll only need 10yd of each color (silver and green, of course!), since that's what I have on hand right now. It's slow going; half an hour got me four whole rows. Also - long tail cast on is the ONLY way to go with wire, IMHO.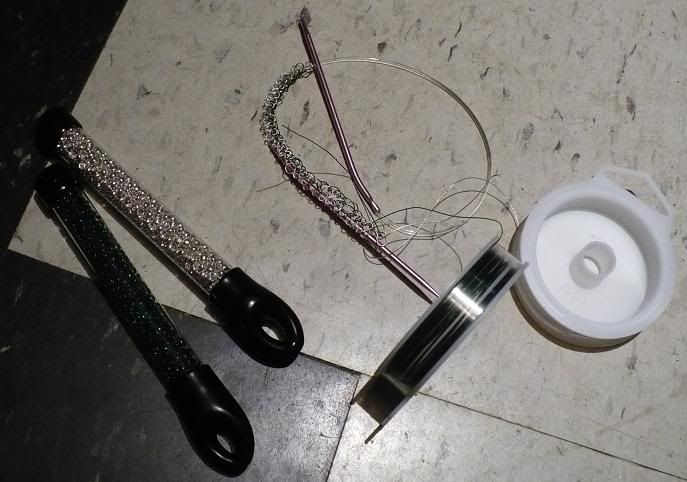 The Headmistress Challenge also posted: "Decorate your house/car/cubicle/window whatever for the Holiday (any that land in the last two months of the year count) of your choice. In that decor must be a newly made knit/crocheted/spun decoration." 10pts for each holiday. So, I'm going to make rabbits - hopefully five or six - and some little fittings to go with them. This first bunny is about half-done, and I'll be making some little crochet fireworks to go with him for Guy Fawke's. (Yeah, it would have been nice if I'd managed to finish it before November 5, but at this point, I'll just be happy to finish a couple of them!)



There are five other classes, of course, and I've still got to get my OWL finished. I still haven't decided what to do about the sleeves; we'll see. I'm going to knit up the back, first, and get the fronts & back together so I can start the collar & button band. If I have time after that, I may change the sleeves. Yay? Progress?