Got two new knitting books over the weekend. The first, Montse Stanley's Knitting Handbook, was recommended by Arenda Holladay, who teaches the TKGA Basics, Basics, Basics course - and more. If you don't have it yet, I recommend you get it on half.com. I forgot to check there first, and ended up paying a good bit more than $9. But it's a really good resource, and I'm glad I have it in my knitting library now.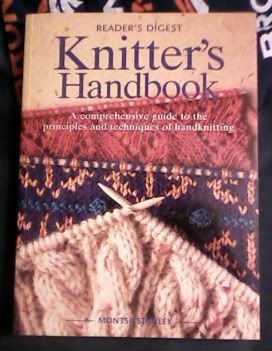 The second, Knockdown Knits by Joan of Dark, just spoke to me. In loud, boisterous, happy words. I think I'll probably be making almost ALL the projects in it (which we know is rare)... thereby telling me that I really should find an older girls' roller derby somewhere around here. I frequently need things like slings, cast-covers, bumper pads, etc. Plus, there are some bags I need to knit... and leg-warmers/armwarmers... and a cute little crown... If you see a copy, check it out!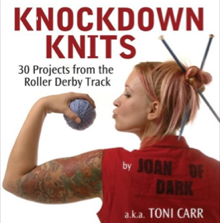 Oh, and I got my homework back from Arenda, too. I didn't do too badly, so I'll be starting my Lesson Two swatches this week. Yay!!