So, Danica. One, I love, love, love this yarn (Feza Iplik Cyprus Mohair - currently on backorder everywhere). It is so soft and fluffy and it actually keeps my hands warm as I knit it. In my slightly-above-freezing (exaggeration... slightly) house, this is a plus. This will NOT be a early-fall/late-spring scarf. This is a Scarf for Winter. Here it is on Friday, noonish: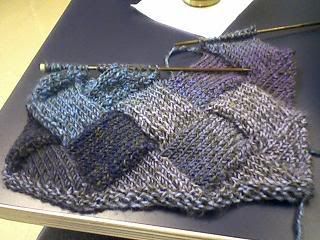 Yes, it's just one strand of yarn.
Works great, doesn't it?
| | |
| --- | --- |
| And on Saturday morning... | And on Sunday evening... |
| And on Monday morning... | And on Tuesday morning... |
| And on Wednesday morning... | And on Thursday morning... |

And on The Recipient!!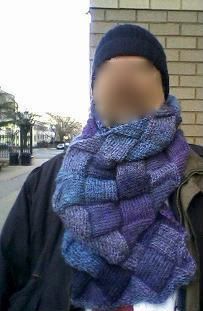 The recipient wishes to withhold his identity until further notice.


But yay! First finish of 2009!!

Really good, soft fluffy happy yarn that just happens to fold itself into a beautiful scarf. I have been totally spoiled by my first foray into entrelac. That, and this is the PERFECT yarn for it. The color runs were long enough to make between two and three squares... and I just happened to hit the right place to start, since I got squares, not half-squares (which wouldn't look nearly as cool).