First, the Doom Goat Illusion Chart: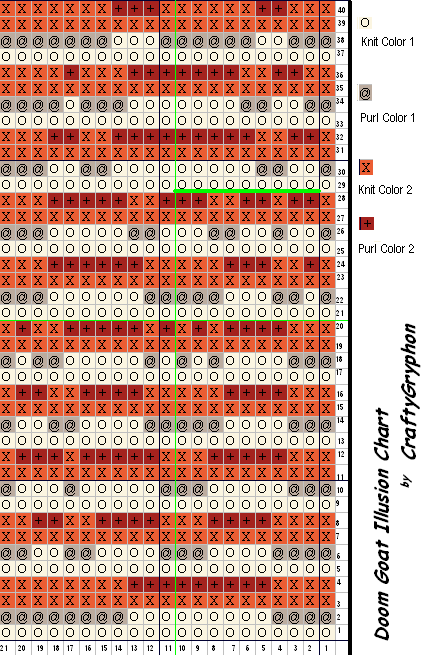 Now, the class turn-in for Charms, where Illusion Knitting was an option...
Name: CraftyGryphon
House: Slytherin, Sixth Year
Option: 1 - Illusion Knitting
Project Page: Hearts' Illusion Mitts
Yards: ~105 yds.

Hello, Professors!

I decided to try knitting a pair of illusion mitts. Now, they look like nice matching mitts from most angles, but they don't actually match at all. If viewed at just the right angle, different pictures will appear!




The right mitt has little hearts front and back (very small hearts - possibly too small). The left mitt has Doom Goat, the Snake Pit Mascot, on the back, and a checkerboard on the palm side. The resolution on Doom Goat isn't great - it's supposed to be Doom Goat's head in a stylized flame.



right mitt



left mitt



The chart I created for the Doom Goat side is set up for knitting in the round; if you're doing a flat piece, then the stitches on the even-numbered rows would have to be reversed. (purl if it says knit, and vice versa) to make it work correctly.