New Project Alert!

I couldn't find quite what I wanted to do with the peacock-blue Alchemy Haiku, so I designed something myself. Yay! A pretty beaded lace scarf! You'll know how it turns out; if it goes well, then the pattern will be available. If not, you'll get a few good laughs out of the misdaventure.



The schematic.
I use my cross-stitch program to do these.
I'll see how much yarn I have when
I finish the first set of feathers;
the diamond motif in the middle will
repeat vertically until it's time
to start the second set of feathers.
I'm figuring about 10 repeats,
possibly as many as 15,
possibly as few as seven.

A bit of the actual pattern.
The cross stitch program strikes again,
with a different view.
I was SO psyched when I figured out
I could design lace using
my cross-sttich program.

First, got the lovely yarn wound into a ball at Stitch DC. Was terribly embarrassed: I would've sworn that I'd bought it there - noooooo. It's one of the two things I've ever purchased at Knit Happens in Alexandria - *blush*!! I was allowed to wind it anyway, which was wonderfully sweet. Out of guilt, I bought some size two Addi LACE turbos. I needed them anyway, so I felt better. (I would've bought stitch holders, which I need for the Cat Sweater, but they were out today.)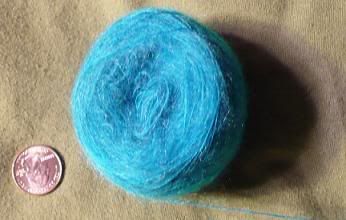 Then hit Joy of Beading, the bead store in Georgetown Park Mall (now on the THIRD floor, not the first!!) and got four tubes of iridescent blue-green-black beads. I was going to get two, but if I got three, I got a fourth one free... you know how it goes. Anyway, look at the pretty beads!!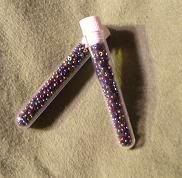 These are slightly larger than the seed beads I was going to use for Secret of the Stole, and I think I prefer them, so back to the bead shop at lunch today to get some golden iridescents for SotS! I just downloaded the Hint #1 Instructions and Chart - and DO download both. The instructions are *very* important, not just the chart!!

I got this far on the pattern before I had to take this picture (with the good camera, for today):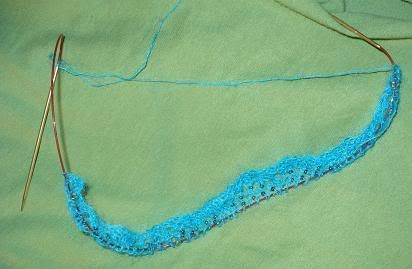 The Cat Sweater suffered due to lack of stitch holders. I'm only eight rows out from needing them now... I'll have to get some on the way home. I have some, I know.... WAIT! I think I've actually got some in my needle bag, where I can get to them! JOY! Unjoy. I only have one... thankfully, a quick trip to Michael's got me the other three I need for the Cat Sweater, and a box of 100 gold-tone jewelry fittings (little gold rings)... which I use for stitch markers. Cheap, shiny, and don't hurt the vacuum cleaner. I like that in my stitch markers. (You can sort of see little gold glints... um, no, you can't. At least I can't. Oh well... I'll play with the the REALLY good camera and my microzoom lenses this weekend.)

Next week, it'll be all about this and Secret of the Stole. And I'll actually get a LOT of knitting done between the 10th and the 20th this month - I'm on vacation - and at Stitches East!! Woohoooo! Is anyone else going to be there? Just look for the woman in the hot pink cabled poncho. I'm pretty hard to miss...!

Everyone have a good weekend!