Back on the wagon. Since finishing Britney, I've been a good little bunny, and I've been knitting up the Cat Sweater. Almost two rows of pawprints past the last picture, with two more full rows to go before starting the neck and shoulder shaping. At least I finally got the hang of really nice shoulder seams doing Britney, so my shoulder seams will look Really Good. And I'm going to switch dominant colors on the sleeves (since dominant on the body is dark brown), so that should give me enough dark brown for all the edging. I hope. Maybe by the weekend, I'll be ready to steek the front of lovely Cat Sweater. And ready to double-ball the remaining yarn so I can knit both sleeves at once (because if I try to do them one at a time, sleeve #2, along with the rest of the sweater, will never be finished.)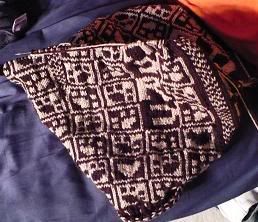 On the subject of sleeves, I found the sleeves for the navy blue sweater I started and since discarded. It's off the list, because it's not a going project, but I didn't unravel the sleeves. I knit them first, you see, and just the idea that I will, at some point, knit a navy blue sweater and NOT have to knit sleeves makes me incredibly giddy.

In other news, I found this while unpacking the ton-o-boxes this weekend.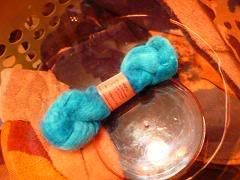 It's Haiku, which is 60% mohair, 40% silk. It's super thin, so it doesn't bother me that much if I don't handle the whole hank at once. I've only got one skein, which is all of 325 yards... but it would make a lovely decorative scarf. With beads. Lots of beads. (I have lots of beads.) Silver pearls? Just silver? Just pearls? Or green-blue iridescent? And what pattern? So much to decide...