Well, sometimes the other crafts sneak in; sometimes they pounce with all their cunning fibery wiles.


Here is the Cat Sweater progress. Please note that it is pretty much in the same position as before, denoting a complete lack of progress thereupon. (One of the stitch holders popped, so I had to reclaim the stitches onto said holder. Don't think that counts as knitting, though.)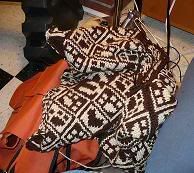 Over the weekend, I stitched up this canvaswork trivet ("Adobe Sunset" by Donna Taylor Designs):



So last night, because I like doing Waffle Stitch so much (and had lots of hand-dyed purple and shiny purple floss left), I made this Whatsis. I think it'll be too thick to be a bookmark... unless I do a fusible interfacing as the backing with some lavender muslin... hmmmm. I may do this. Otherwise, I'll just wrap the corners and stitch it onto a totebag somewhere.



In my defense, I did drop by Stitch DC to get a set of size three DPNs. This has made the cabling on the Rose Romance Sweater *much* easier. Photos of actual accomplished knitting tomorrow!