Sometimes, projects just don't want to cooperate right off the mark. They're fiddly, even if they really shouldn't be, or the yarn just does NOT want to play nicely, or you try knitting cobweb mohair lace on a moving train or something equally silly. And eventually, you sit yourself down at your desk, listen to the projects, and make them happy so you can both get along until they're done. To wit:
Wisp
After doing the same row three times and missing a stitch every time (and having already repaired ONE giant hole in this thing left by a missed stitch), I finally put a lifeline in my Wisp:
Here it is now, well past the lifeline... which probably means I should put another one in.
Entrelac Hat
After casting on, getting through 30 rows of ribbing, the setup triangles and the entire first row of entrelac squares, I decided the hat didn't fit, I hated the edge, and it needed to be frogged. And then the second cast-on didn't quite work. So, third time's the charm, and here's how it looked The Morning After The Frog:
... and here it is actually finished.
It is the warmest, snuggliest hat EVER. I love Feza's Cypus Mohair; I wish it was still available! (Heck, I wish Google could find the Feza site!) OMG!!!
http://heavenlyhuesyarn.com/cyprusmohair.aspx
appears to have some. Now I just have to decide if it's worth buying out whatever they have left or not...
Gryphon Hat
Using the adult instructions, I at least figured out I should have used the Large Child set for my own hat. (I get a HUGE break on the cost of my glasses, because I can wear kids' frames. And yes, Donna Karan makes kids' frames. The break on the frames is completely offset by the cost of the lenses, so I'm still paying half an arm and three toes, but any savings is good!) So, I frogged back past the last increase row, and started again.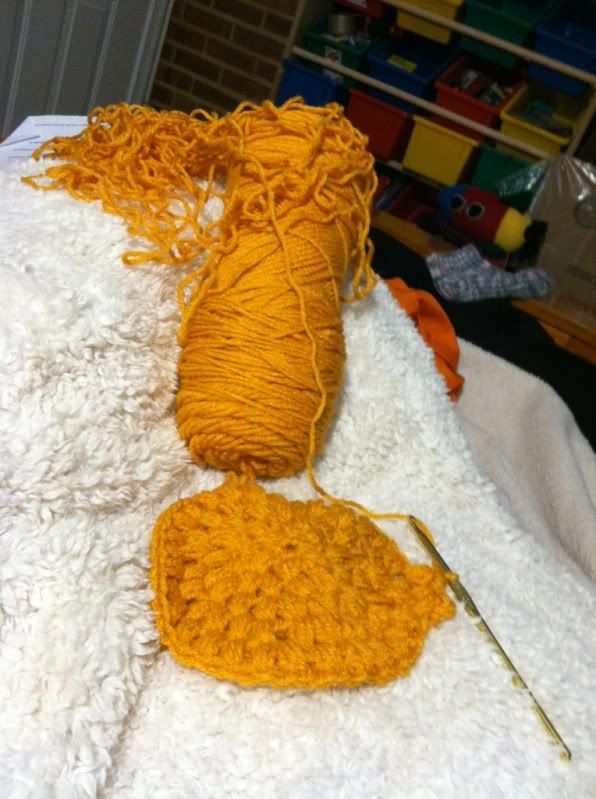 It, on the next attempt, actually got finished and turned into a nice little hat, which I wore at Katsucon for hours on end the weekend before last:
So, if something is going horribly wrong (knitting/crochet-wise, anyway), starting over is usually a good idea if you actually want the finished item!