Okay.... so, um, finishing things. Not so much. So, instead, I'm gonna show you The Next Five Things I'm Likely To Make From My Ravelry Queue! Mind you, it's not the top five things in my queue. It's stuff that I already have the yarn for, and have a prayer of finding the pattern for, and I wander by it and go "OOOOOOO!" in my queue. And what I actually start will depend on my mood that day, the phase of the moon, etc. So, in no particular order, here they are. Direct links to patterns provided where possible; links to photo sources provided.


| | | |
| --- | --- | --- |
| 1. | Leyburn Socks | I'll be using the Miss Babs yarn that I thought was going to be my original-design Pumpkin Socks for these, so, unsurprisingly, they'll be orange. I think I first saw them onStephanie's Blog, and decided that yep, I was knitting these. |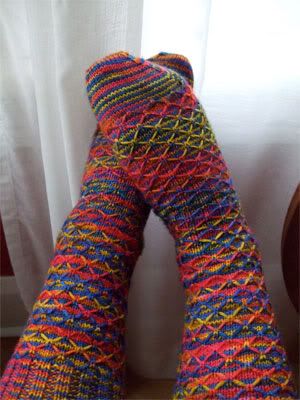 In fact, these are Steph's lovely, inspiring socks. See here!
| | | |
| --- | --- | --- |
| 2. | Peacock Tail and Leaf Scarf | This project is *why* I wanted to take the Overture to Estonian Lace workshop with Nancy Bush. It's in her book, Knitted Lace of Estonia, and, having taken the workshop, I feel much more comfortable tackling the project. I will be making it from the lovely grey silk/wool blend that I bought for the workshop (and just happend to get an extra ball so I'd have enough for the scarf...). |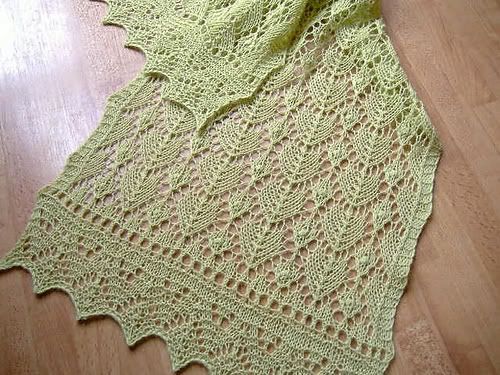 Photo of Kingring's lovely scarf.
| | | |
| --- | --- | --- |
| 3. | Go Fly a Kite Shawl | I have the most beautiful sky blue yarn for this project, and I'm pretty sure I know where it is. It's my next "big shawl" project after I finish the Forget-Me-Knot shawl in hot-pink mohair. Nice, smooth blue yarn will be a treat to work with after that! |
Photo of Jen from RI's tiny shawl. It's a great shot of the yummy pattern!
| | | |
| --- | --- | --- |
| 4. | Elizabeth I | I'm one of the lucky ones that has a copy of Tudor Roses, but it's in a Very Safe Place so nothing happens to it. Imagine my delight when Elizabeth I was reprinted in Issue #10 The Knitter magazine (issue #12 now on preview)! Anyway, there was a sale on Election Day this year at Fibre Space, and I got the yarn to make this sweater for myself. It's a beautiful aqua blue... and just to make sure, when I had to work late that Thursday and my boss drove me to the yarn store (which worked better for me than being dropped at the Metro), I got two more skeins, just to make sure. Yay, all the same dye lot! |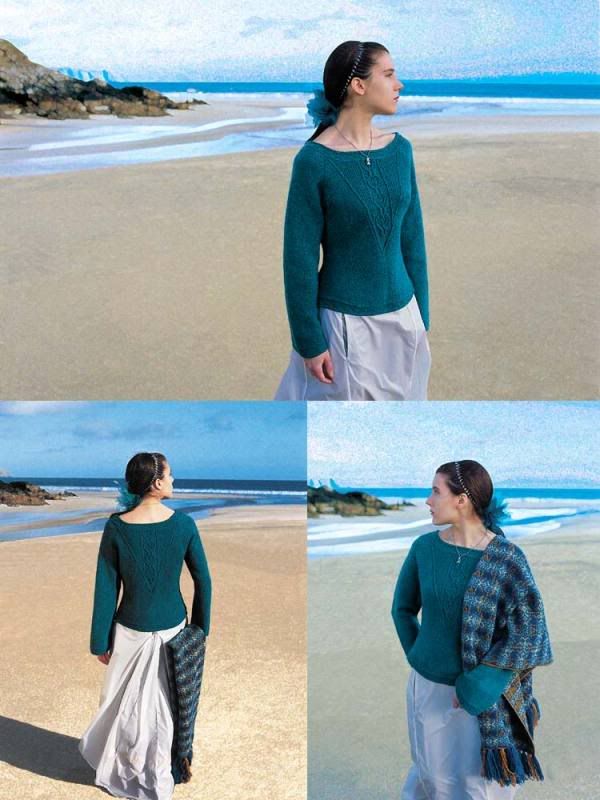 Still the best photos I've found of this lovely sweater, from The Source!
| | | |
| --- | --- | --- |
| 5. | Trilobite | Yes, to go with his Trilobite Hat, should I actually finish it, my husband needs little stuffed Trilobites. Really. At least one of them will be made from sparkly gold yarn. This isn't the original Trilobite I'd planned to knit, mind you; while looking for the photos of another stuffed Trilobite on Ravelry, I found this pattern, and I actually like it better. (It, I should add, is now the #1 item in my queue.) |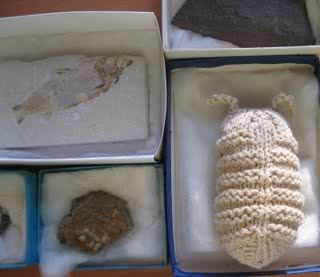 The photo, from the designer's blog, that convinced me that THIS was the Trilobite to knit.


Now, assuming I ever get a chance to start any of these, you'll hear about it!!