Today's other craft: "Delusional Knitting."

As various getting near Christmastime posts by the Yarn Harlot (seriously, look at a random sampling of her December posts - any December) show, it is possible to come up with a Brilliant Idea about how quickly one can knit something. Like, for example, to stay "on track" for my average completions-per-month (which is supposed to be "four", but I didn't finish anything in February OR July, so I allowed myself to back it down to "three"), I needed to finish two more things in August (a month in which, I must add, I have already finished four things). So, what the heck, I had a pair of socks I'd started, the Knotty or Knice socks from Interweave Fall '08. This is them early in the month.

Note the stylish way I've stuffed the center-pull ball of yarn I'm using into the sock itself, which avoids all sorts of nasty tangling and yarn-running-away-down-the-length-of-a-train-car problems.



And this is them a wee bit later, when both have passed the Heel Point.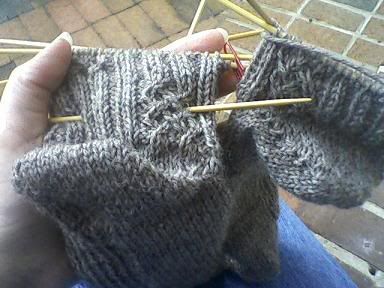 Note that I avoid Second Sock Syndrome by knitting both my socks at the same time - well, rather, doing the toe of one, then the second; then the foot of one, then the second; then the heel of one... you get the idea. So if there's a photo of one sock, there's another sock that looks just like it, or is only a few rows behind. Anyway, I decided last week that by Yesterday (aka, the last day of August), I'd have this pair of socks finished. Ergo: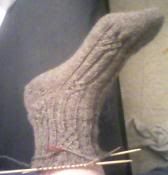 (This is the 27th, Thursday)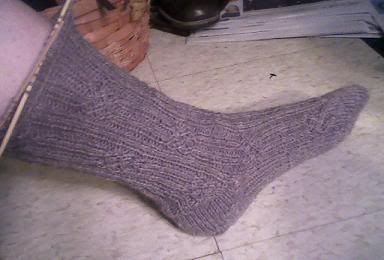 (This is the 29th, Saturday)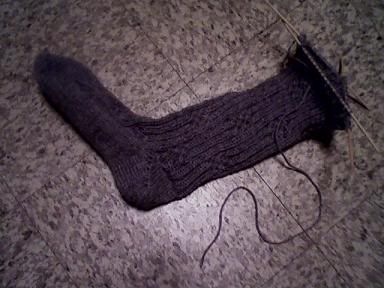 (This is the 30th, Sunday
and exactly One Ball of Kroy Sock has been used per sock)


Now, that would be all well and good, and certainly I could've figured out how to end my socks there. But, being me, I'd already altered the pattern. If you click through on the "Knotty or Knice" link up above, you'll note that knots are evenly spaced in a grid, with p2k2p2 between them, right around the whole sock. I'd already spaced mine out in a staggered grid (basically, omitting every other knot in a set, then, for the next set, shifting to where the "other" knots would've been), and, by golly, these were going to be Knee Socks That Stayed Up. This required making them tall enough to actually hit my knees. (Don't worry, I'd bought a third ball of yarn, and divided it up over the weekend.)

So, there it is, Sunday night (during a Broncos game, but the less said about that disaster, the better), and I've completely used up two balls of yarn, and have two little half-balls ready to go on my socks... and I realize I'm not going to make it.

Let the pouting commence. And it lasted all the way until lunch on Monday, when I realized that I might as well finish them anyway. It wasn't the socks' fault that I'd (a) spent all the time during the week ignoring my Masters project to finish these socks, or (b) ignored my quilted Christmas chessboard in favor of trying to knit the socks, or (c) worried that if I didn't finish these socks, I'd then have to finish FIVE projects in September to stay on track and when was the last time I'd finished five things in a month?? or (d) failed, utterly, to finish the socks. (More on that tomorrow.) So, I halfheartedly knit a few rows at lunch, then decided to ignore the socks for the rest of the day as punishment. (Hey, I know, it's not the socks' fault, but my immature response was to punish them anyway.)

This morning, it was a lovely day, so I pulled out the socks after a picnic breakfast by the river, and got the half-ball of yarn joined to the left sock, and knitted away for a while.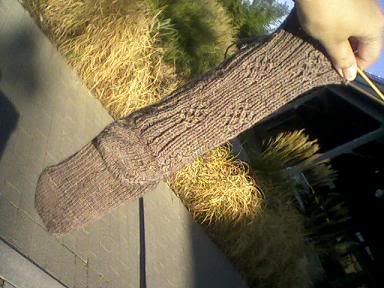 (This is today, which is now in September.
September is emphatically Not August.)


I'll probably go back out at lunch, and work some more. I've really only got (on each sock) one round of staggered knots, then a round of knots-every-space for the top of the sock, then the cuff (a la the cuff I learned knitting Nutkin). I can do a regular knot-set in about 20 minutes; I figure doing a full knot set will take about double, so there's probably a few more days of knitting these socks, but then I'll have a finish for September, right?

By the way, the socks totally wanted to play hooky and stay by the river all day. To be honest, so did I!!