Whilst at the Uniquities retreat last November, we encountered cabled hats. Done with bulky yarn on large needles, they knit up quickly. The ones we saw were just cables, that diminished into the center. My mom, at the same time, was fixating on all-over cable designs - rather like the Poor Unfortunate Sweater I made in the last decade: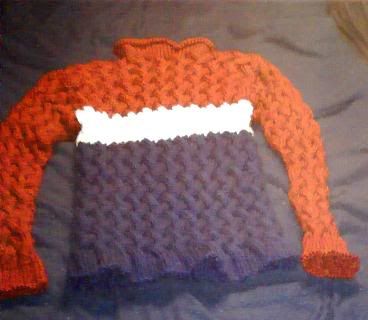 I didn't really understand, then, how much cables pulled in... so that sweater wound up being for someone with stick-arms and no boobs. (This is NOT me.) Now, since that was aaaaal the way back in the O0s, I didn't really remember how many extra stitches needed to be added to make cables work. So my first attempt, while it did work GREAT for all-over diminishing cables, wound up very pointy.
Luckily, it was saved by vigorous blocking over a stainless-steel bowl:
My second attempt worked MUCH better, but just to be sure, I added earflaps and a button under the chin. (Which wasn't really necessary.)
I knit a third one in green for my husband (never did get a picture of it, and I'm in the process of knitting another red one for me. I should have the pattern solid enough to write it up soon!