Let's see. Will have a "less knitting" week on the Monster Yarn Stitch Pattern project, since I got lots of patterns done in time for yesterday.

Had to rethink (and then restart) the SmarTrip Scarf - it's now 120 stitches, k1p1, in the round. I didn't like the way the edges looked, and being doubled up will make it even warmer. It will also now be possible to knit it from one end to the other, with a split-pocket in the center for the neck-part (and Secret Pockets! with Zippers!!). Bought four more skeins of yarn, since it appears I'll be knitting this thing forever - after most of the week, I've gotten six ENTIRE stripes done. Yowza!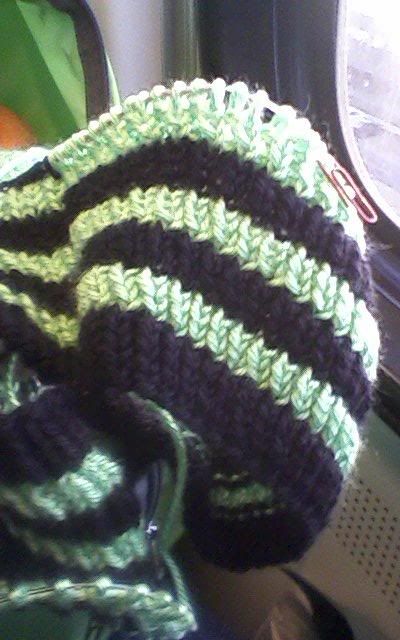 Got the "Star" panel of the Hello Kitty scarf done - this one is my design again, but goes nicely with the Hello Kitties and Flower of the original pattern. Really hating the edge of this, too, so got more pink/black yarn (hey, I was buying black & green yarn anyway, and the Caron Supersoft was 2/$5!) and I'm going to do the reverse-negative designs for the "back" of the scarf, and then crochet the whole thing together and fringe it. So, basically, I'm knitting this scarf twice, but it should look good. And it'll be warm, which the single-layer might not have been.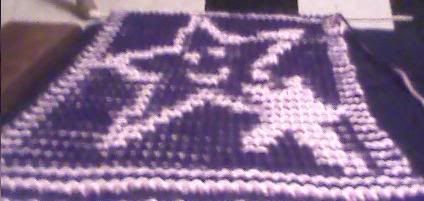 My Pattern


Helped my mom tie a quick quilt for my godbrother (well, her godson - I think we've decided we're godcousins, maybe?). She also whipped up some matching pillow cases and curtains, and we got that in the mail to his new home. We tried to keep it somewhat grownup, since he's twelve, and starting to get sensitive about things that are too babyish.




And, finally, got a hook on the back of my front door, which should help with the Pile of Coats problem that was starting to annoy me (sometime in 2004). Home improvement sometimes takes running into The Perfect Coat-Hook Thing for $4 at Marshall's.



I also finished something last weekend, but I didn't get decent photos, so you'll see that on Monday. Wheee!