By finishing The Hat late, late Thursday night, my total is 44 projects finished in 2009, averaging 3.67/month (or, since I didn't do anything at all in two months, an average of 4.4/month in months in which I actually finished projects). As I managed to finish the year under 50 UFOs (finally!), I can start something new!

I know, I know, it's not quite supposed to work that way, but really - I didn't start anything new-yet-unfinished since... um... well, the Williamsburg Chase Sampler, and I started that in... well, as near as I can figure, sometime in October. That's a long time to go without a start just-for-fun! So, I started my version of Alana Blewitt's "Hello Kitty Illusion Scarf" (Ravlery link; free Ravelry download). Mine is in black and pink, and I'm going to add a little smiling heart panel and a little smiling star panel of my own design.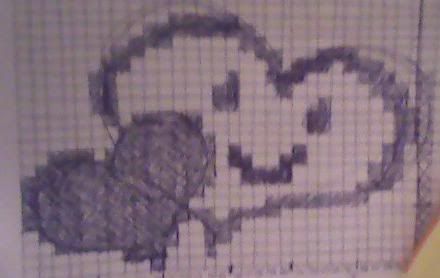 Being a cartoonist makes getting stuff like this sketched out easy.
Not that it's a really complex design!


I have one Hello Kitty panel and most of the Smiling Heart panel done. I know you're "not supposed to use" acrylic in illusion knitting, but that's all I've ever done, and it's all worked out fine. Still debating as to whether I should just knit the scarf twice (once from each direction) so each side of the finished article has illusion capacity. Also, note about my charts: it's easier for me to follow the charts right to left, same as I knit, so whatever is charted winds up mirror-imaged on my final product.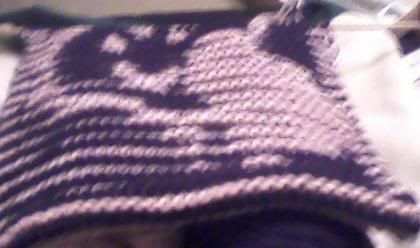 Blurry shot of Smiley Heart panel


It'll depend on how "Hello Kitty"d out I get, and how quickly.

Now, I'm still being a good bunny and working on *other* projects, so there should be a couple of finishes in January, just to get the year started off right. Woohoo!!