Yay, photos work today!!!

So, Monday last, I found some yarn and a pattern, and started to make a smoke ring for myself (the pattern, "Silken Smoke Ring" by Angela Ho and Flora Yang, is free over on Elan. Since it's made with my usual garish color choices, I'm calling it "Rainbow Mist" instead of a smoke ring. Anyway, here's how it's gone so far, in photos:



Monday
best shot of actual colors

Tuesday

Wednesday

Thursday

Thursday close-up

Friday

Saturday

Sunday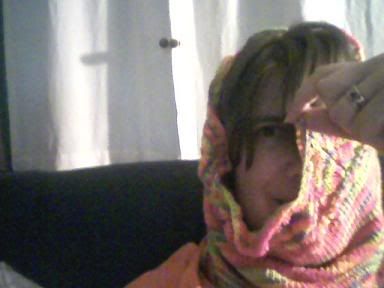 ... and it fits!



Yep, it's done, and in under a week! Yaaaaaay!!!