Thanks for the good wishes to the family, folks.

Getting back on track with my work on the Masters, finally. Tuesday before last, I had to hit the allergist (I had a mild, but odd, reaction to an Unknown Trigger), and afterward I went to the library between the allergists' office and home as a treat. I found the following bonanza of knitting-related research materials:



This is June Hemmons Hiatt's much sought-after book. As in goes for INSANE amounts on eBay. (I should note that rare knitting books don't tend to disappear from the library system, because a "lost" book means you pay the library whatever it costs THEM to replace the book. Usually, it's much cheaper to get it yourself!) The library copy is much-loved, annotated (NOT officially), dogeared, and clearly much-used. I pored through it that afternoon, marking page after page with Post-It notes, so I'd have yet more reference sources for my Answers. This book says things others don't - like what, exactly, the ratio of rows to stitches for various patterns are likely to be!

I also got my paws on this:

Vogue Knitting can be a trip to find. I have the Quick Reference Guide, and was planning on using it as a reference, but I'll be looking through this book as well. Since I have both for a limited time - two more weeks - I decided I'd best get hopping so I'd have time to double-check my references while I still had the books at hand! (Since I've been on the list to get Principles for a whole lotta months now, I'm not counting on being able to get it back before I'm ready to turn everything in!)

It was hot, hot, HOT in DC this weekend, but we had to make up some time/chores from being in Ohio, so the plan for this week is to stay indoors at lunch & after work, and drag out all my swatches. Time to read the instructions for each One Last Time, and weave in all the tails, and commence blocking. I mean, really. It's been a MONTH now since I've done anything (although the last three weeks, kinda understandable, what with a bad allergy reaction, funeral out of state, and recovery from it all). So, today, I brought my Bag of Finished Swatches with me: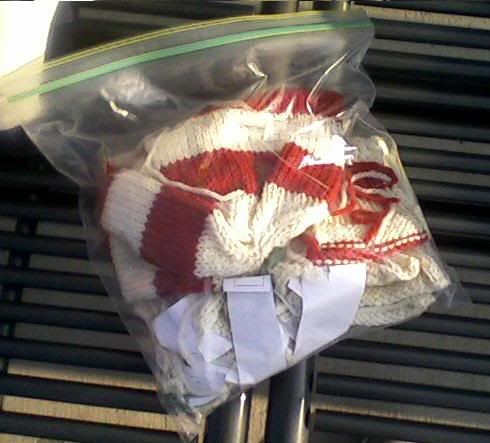 Sixteen swatches and a pom-pom-less Hat


Now, to print out ANOTHER set of instructions, and figure out what I need for my reference cards (aka 'what I need to make sure I did correctly on the swatch')...!