Um, well, some things are getting done. Since I finished absolutely NOTHING in July, I'm hoping to get a really high number of finishes in August. So far, I've got the Floofy Bed Socks with Flower:



The Dream Swatch Head Scarf, which, as you can see, was finished on the trip to Ohio: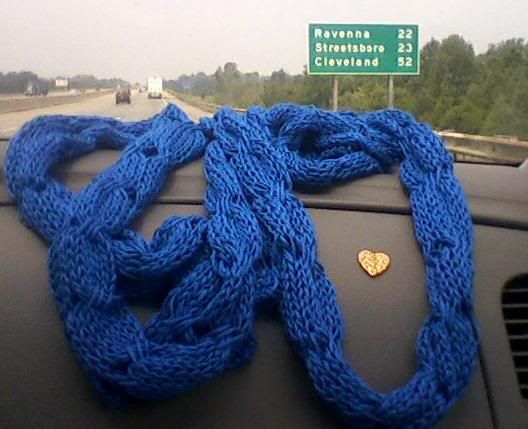 Simple Flat-Knit Bedsocks (pattern will be up next week):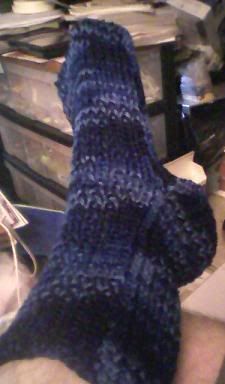 ... and I accidentally started a smoke ring on Tuesday. (I had to - it was the Let's Knit2gether August knit along, but I didn't realize it was until Monday, and trust me, it was SOME GIANT THING to actually be able to find yarn and needles in the stash room believe me you it was NOT EASY to start this project really it wasn't!) It's in very "me" colors, and not anything resembling any sort of smoke I've ever seen.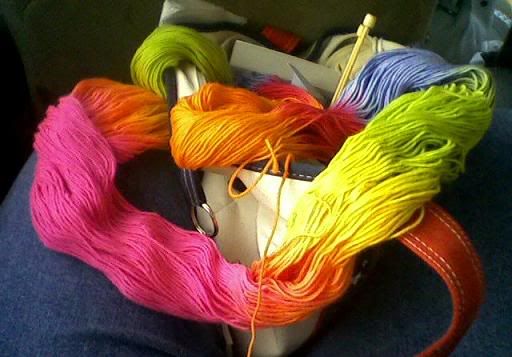 (I'm pretty sure if you see smoke that color, you're supposed to hold your breath while running as fast as you can in the opposite direction.)

I also pulled out a quilting project (a small Christmas-colored chessboard) tha I haven't worked on for a while, a cross-stitch project I packed to take to my sister's wedding last June, and it lived in the suitcase until I packed for the drive to Ohio, and looked - frequently - at my hot-pink merino shawl project, but never quite took it out of the bag.

But hey: three finished projects so far in August does NOT suck!!