So, I've decided I really, really love the Blue Sky Alpacas Metalico. Not just because it's the only Alpaca I can handle without my hands turning bright red - although that's certainly a consideration - but because it is SO SOFT. And it's just cool. Here's a video of the Untangling of the Skein - I'm sure this is a perfectly ordinary normal way to arrange yarn, but it's the first time I've paid attention when I've come across it, and I was delighted. Sadly, it's very dependent on which end you pull first - so here's a video of the exact WRONG way to smoothly unbraid the skein:
Yeah, well. If it had worked, it would have been cool.
Anyway, once I thought a bit (and pored through several Ravelry pattern searches), I realized I wanted to make a Moebius-something. The Lovely L taught me a Moebius cast-on back in the dark ages (aka the 1990s), but as I've crashed several computers and lost any ability to recover things from 5" floppy disks, I had to re-learn with my 2012 brain. Luckily, the internet coughed up
CAT BORDHI - Intro to Moebius Knitting
, which was all I needed to get going. Originally, I was going to knit up her
free Cashmere Moebius Cowl
, too, and that's the number of stitches I cast on. Went happily along for quite some time (about five rows - which on a moebius is a LOT of stitches), and then decided to put in stitch markers every pattern repeat (which is 16 stitches for this pattern).
Then a fellow Black Adder put some of her patterns on sale, and while buying several of them, I discovered her
Jolly Roger Shawl
. The skull motif was just the sort of thing I was looking for. And by some miracle, my initial cast-on of 288 stitches (done at random, no real planning, just Seemed About Right) was ALSO divisible by 18 - the stitch repeat for the skulls. I didn't know this as I was knitting a row to move the stitch markers down - and you could've knocked me over with a feather when I got to the final repeat and I had the right number of stitches. Very, very nice coincidence, that!
So, I knit a few more rows, and started the pattern. Here it is on Monday morning, just about to start the third lace row - the one with the 1-to-5 increases:
And here it is today: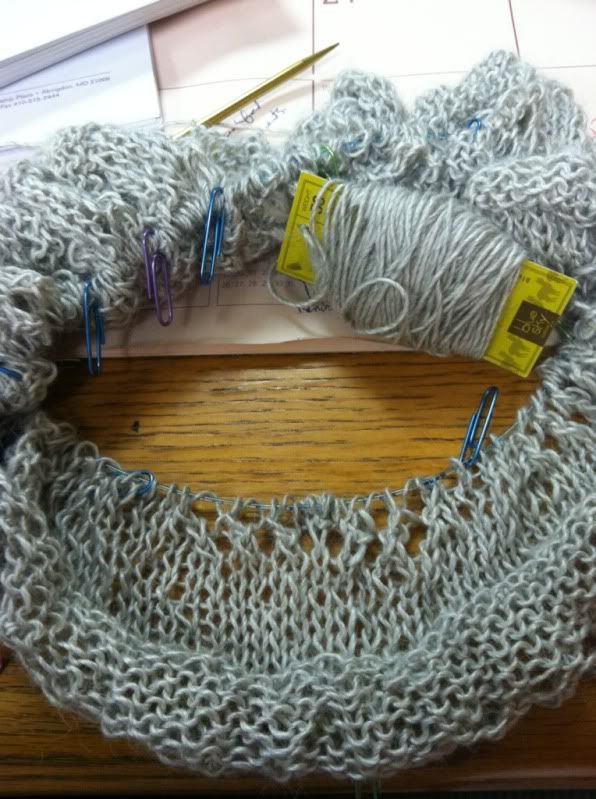 Okay, so there's not THAT much progress. But it's still very, very soft!!! Plus I figured out there were 550 stitches a row - so cut me slack. That's a lot of lace stitches!!