This was going to be a post a while ago. Long enough that I just found the draft. The item in question IS finished, and doesn't look remarkably different from the thing on the needles, except it's about 6' stretched out - and that's DOUBLED, remember. So loopy scarf-thing for summer, wherever it is. Can't find it to take a new pic, so you get this, which is the old post:
The Wolf and Phoenix cotton thread from... beginning of January...2013? Well, Kind Giver of Yarn gave me another ball, this time in organge (which, as she said, is really the color I tend to keep for myself). So I decided to get fancy and make a moebius Thing. Which didn't work AT ALL on the 24" needles I started with. I figured hey - really thin yarn, it should work, right?

WRONG.

Now, the day after I had the first disasterous cast-on attempt, my Mom and I went to Tuesday Morning. Tuesday Morning is a aftermarket-discount-overstock shop. If you know what you're looking for, you can get some real deals.

In addition to beads (lots!), the ones in my area frequently carry Kollage square needles - DPNs, circs, and straights. Now, the odds of there being a 40" size 3 circular needle when I went into the shop are pretty darned astronomical, since any of the good needles vanish promptly into the hands of Other People Who Are Not Me... but my luck was in that day, because a 40" size 3 circular was EXACTLY what I found!

The cast on went much better the second time around. I wanted an open net without that funky "here's the middle of the moebius!" line of stitches that most projects like this can develop if there's any sort of pattern involved. I figured out that doing the first half-row (to where the starting marker is on the cable instead of between the needles... um, if you moebius, you get that) in stockinette and then starting the ktog/yo-repeat-forever was the way to go. TOTALLY WORKED.

So, here it is a few days in: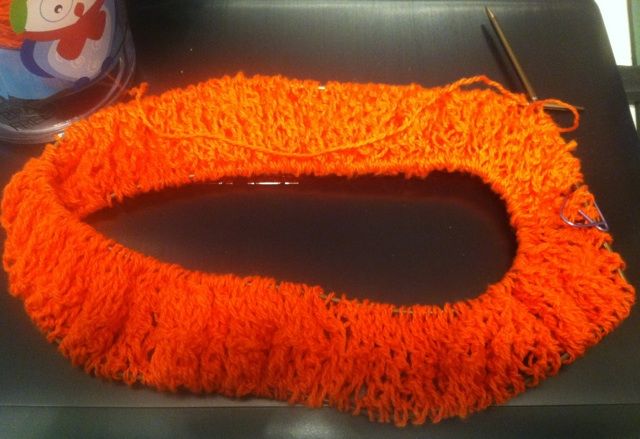 (Yeah, I like my Owl sippy-cup yarn bowl, too. Can't justtify buying a sippy-cup, can justify it if it suddenly becomes Knitting Tools.)
Light, lacy and pretty, it will be perfect for summer... which is good, because that's when I'm likely to finish it!