So, having finished a few things (more on that Friday), I'm back to Clapotis as my carry-around project.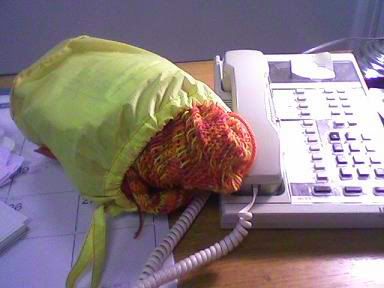 I'm about halfway through Ball of Yarn #2 (of 3), and I need some motivation to keep going. I re-watched several Clapoitis-related episodes of Let's Knit2gether. Then, I went on a photo hunt, and thanks to the Trusty InterWebs, I found some amazing photos of the finished product. I decided to share, which took two seconds; putting this post together took a couple of hours, but I know y'all like looking at the pretties just like I do, so it's worth it. Click on a photo to go to the blog entry with that photo in it; click on the link below the photo to go to the current blog entries for that blog.


This is but a SMALL sampling of what I found in a two-word Google search - there are at least 35 PAGES full of finished Clapotis pictures (and some other cool things), and I found a bunch of great new-to-me knit+blogs to follow. Click through on the links above to examine them yourself - there's some really lovely work.

And, just because, one of the photos (and blogs) I discovered was this - I wish the full-size version was still available:


Let Them Knit Cake!!